Advice on electricity pricing courses through the APPrO 2018 conference
By Sean Mallen
The power of technology brought some nifty new tools to the APPrO 2018 conference.  Among them:  the "Slido" app, which offered the ability to take an instant poll of the room on an issue.  It was particularly informative on day two at an event titled: "Bringing down the cost of electricity."
Given the new Progressive Conservative government's election campaign promise to reduce hydro bills by 12 per cent, the audience was asked: "Do you believe it's possible for the Government to succeed in reducing rates by 12% during their first term, without further transfers from the tax base?"
There were knowing chuckles in the room as the interactive screen quickly produced a result showing more than 80 per cent voting no.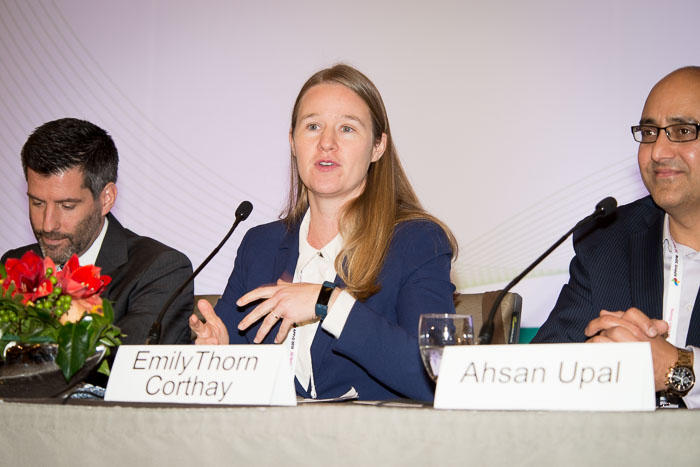 The cost of electricity tends to dominate the political debate on energy, pushing aside more arcane subjects such as market renewal and long-term plans.  No energy issue is so certain to garner headlines as a hike in power bills, which is why Ontario's political parties regularly promise to rein in increases — even if their tools to do so are limited.
In point of fact, Premier Doug Ford's campaign promise specified that the savings would be found by shifting costs to taxpayers from ratepayers, principally by directing the province's share of dividends from Hydro One to rate reduction, as well as moving the cost of conservation programs from hydro bills to the government's books. 

At the APPrO conference, the members of the expert panel that discussed the cost issue all recognized that the most straightforward way of cutting hydro bills is to have taxpayers pick up more of the burden, even if taxpayers and ratepayers are essentially the same people. But a few provocative ideas were exchanged.
The session Chair, Mike Richmond of McMillan LLP, was part of a consultation process on electricity costs and wryly observed that one of the principal challenges is: "Everyone can tell you how the other guy can cut costs, but nobody can say how he can cut his own."
Ben Grunfeld of Navigant Consulting suggested that to meaningfully reduce prices, real savings must be found within the sector because if the burden is shifted to the tax base, it could become a casualty of deficit cutting.  
"I'm going to throw out some ideas that no one is going to like, but there's a way to get there," he said, pointing out that the savings target would require cutting $500-600 million out of the system. 
Recognizing that he was addressing a conference of generators, he started with the approximately 1000 MW of excess capacity that Ontario has for the next five years, suggesting that it could either be cut out of the system or sold elsewhere at a better price than it is currently drawing.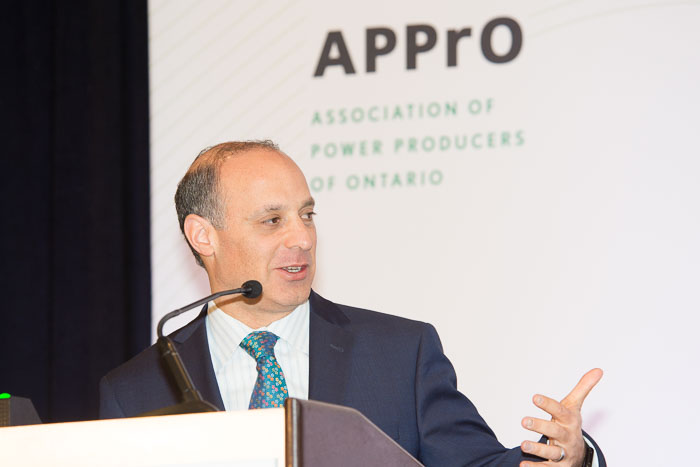 Mike Richmond Using the Slido app, an anonymous conference-goer posted a similar thought on the big screen behind the panel: "if we've got a surplus for the next 5 years, wouldn't it be simplest to shut down at least some Pickering units sooner rather than try to export capacity?"
Ahsan Upal of Burns & McDonnell Canada urged the sector to wring more value out of its existing assets — to look at the network of transmission lines, power poles and the vast tracts of land and consider whether they could be used for telecommunications or to transport goods along the right of ways. 
"What makes us think we can continue to deliver a single product down our lines without being challenged?" asked Upal. "I see many opportunities to reduce costs by maximizing uses."
Emily Thorn Corthay, of the Ontario Society of Professional Engineers sounded a cautionary note amid the cost-cutting proposals, pointing out that while OSPE supports examining the shifting some of the burden to the tax base,  everyone needs to be mindful of potential unintended consequences.  Such measures are "essentially subsidizing electricity rates.  And that will hurt the case for efficiency.  It's important that conservation and efficiency are still considered," she said.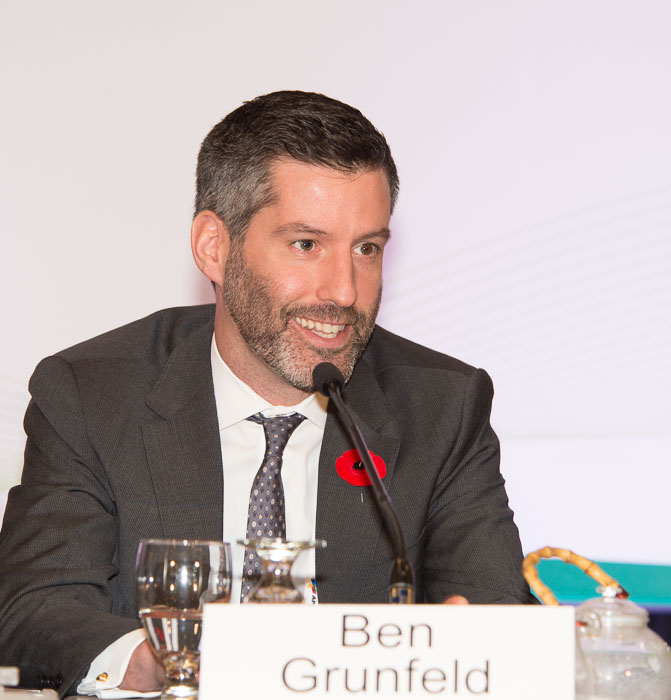 Ben Grunfeld  
The President and CEO of TransAlta, Dawn Farrell, gave a clear-eyed, straight-talking and entertaining analysis of pricing in her keynote speech.
Farrell described low prices for consumers as "the only thing that matters".
"They want electricity to be cheap. Not affordable, not reasonably priced. Cheap.  They will pay fees for cable, phones, data, streaming movies—but if you suddenly find your electric bill at anything over about $250/month, you are in deep trouble!"
She warned that "justifying high electricity bills so that you can hold onto old and expensive technology will never work."
Farrell advised that everyone in the sector, from policy makers to generators, should ensure that any and all changes to the system should be focused on lowering prices—adding that when technology is shown to lower bills, it improves investor confidence.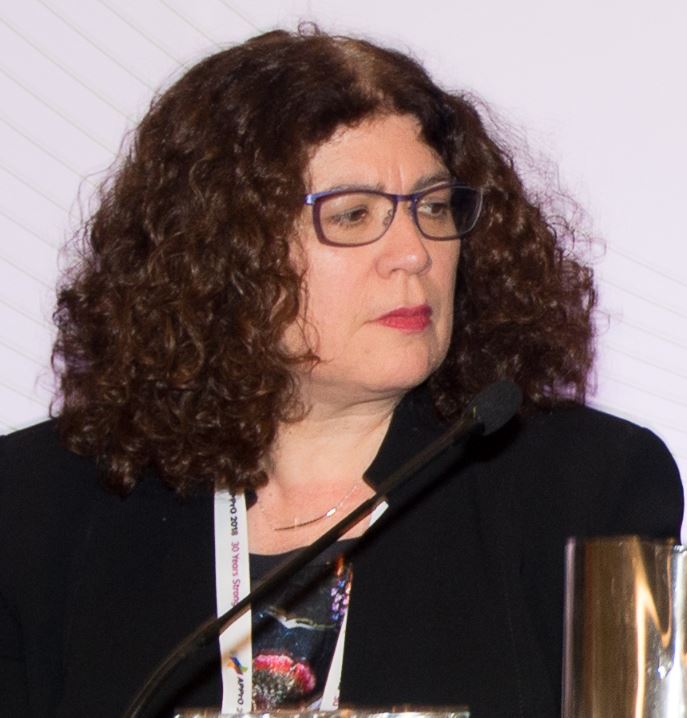 Teresa Sarkesian After listening to all the ideas and propositions, APPrO President and CEO David Butters said he was struck by the complexity of the pricing discussion, noting that there are many unanswered questions.
"It's pretty clear that there's no silver bullet," he said, adding that he was hopeful that the minister is ready to listen to the experts in the field. 
"There's a real and genuine interest on the part of the people in the electricity sector to help on cost management."
Mike Richmond, Ben Grunfeld, Emily Thorn Corthay, Teresa Sarkesian, and Ahsan Upal were speakers in the APPrO 2018 conference panel "Bringing down the cost of electricity" on November 13, 2018.
Sean Mallen is a communications consultant and formerly an award-winning journalist with Global News.  His new book Falling for London, a memoir of his time as a foreign correspondent, is published by Dundurn Press.
See also the following related articles:
Sean Mallen's posting on other presentations at APPrO 2018 ("Energy Minister and industry leaders share views on managing change")
APPrO's posting on reducing electricity costs on LinkedIn
Article by Ahsan Upal on "Cost reduction strategies for utilities," published as part of the same conference November 12, 2018.
Photos by David Smiley.