By Dave Butters, President of APPrO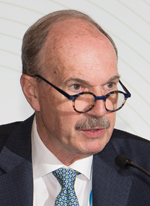 The former Green Bay Packer great Brett Favre is remembered more for throwing touchdown passes than offering legal opinions, but he had a wise comment about business dealings:
"Maybe I'm old-school, but I always thought you honour a contract."
The quarterback's homespun observation should resonate in the complicated world of Ontario energy policy, particularly as we are caught up in in the supercharged atmosphere of an election campaign where electricity prices are a key issue.  At APPrO, we would like to suggest that policy makers and voters take a practical and informed view of energy policy and, like Favre, respect contracts entered into for providing power.   
While no one likes seeing our hydro bills go up, it is important to remember some basic truths: our system is much more reliable than the dicey days of the great blackout of 2003 and with the shutdown of coal plants, we have one of the cleanest generating systems in North America.  Both are huge benefits, both to our economy and our health.   But the price of power reflects those benefits. 
Almost half of Ontario's electricity is provided by generators who responded to the government's call for power and entered into contracts.  They are keeping their side of the bargain.  The system can never stand still.  We must constantly invest in maintaining and updating it—this, in a massive province that often endures harsh and unpredictable weather.  That also costs money.
A recent paper by a Canadian university professor suggested that a government would have the right to pass legislation to tear up an energy contract it did not like.  But this is an outlier opinion, on shaky legal ground that makes no sense, and could cause serious damage.   For one thing, there could be a huge cost to taxpayers.  Contracts typically provide for compensation, serious compensation, if one party chooses to abandon them. 
There would also be incalculable damage to confidence.  Businesses shun jurisdictions where they cannot trust that government will keep its word.  Rating agencies might downgrade the province's creditworthiness, which has a real impact on debt servicing costs.  The "Feed-in Tariff" program, which allows landowners and other private interests to sell renewable power back into the grid, has come under criticism for the price it pays.  But it has also been embraced by First Nations, farmers and small and medium-sized business owners across Ontario. Thousands of individuals and organizations have taken part in good faith.   After they have made the investments in clean energy, it would be manifestly unfair to change the rules and leave them stranded.  
Energy policy is complex and long term.  The best approach is to make decisions based on solid facts and sound planning principles.  We need a stable and predictable policy and regulatory climate so that everyone understands the rules of the game, and those rules should not be changed arbitrarily. 
We must make efficient use of existing generation assets and when the time comes to procure new generating sources, the process should be fair, transparent and competitive where feasible.
There are few short cuts in energy policy. Common sense should prevail.
We should be guided by that old quarterback of the Green Bay Packers: fairness demands that a deal should be a deal.