Commercial/industrial customer to install 8.8 MW battery storage
Toronto: Honeywell announced May 15 that it would be providing a Battery Energy Storage System (BESS) to Saturn Power, an Ontario-based renewable and clean energy provider.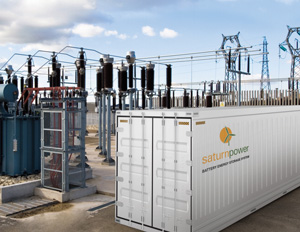 Saturn will deploy the system at a local power plant that is classified by the Independent Electricity System Operator as a Class A customer with high peak demand. The technology will enable the batteries to charge during off-peak times and draw from the BESS when energy demand on the grid and costs spike — typically on hot, air conditioning-intense summer days or cold heating-intense winter days.
          The BESS for Saturn Power is designed to supply up to 8.8 megawatts and 18 megawatt-hours of energy. The system delivered by Honeywell provides advanced cell-level control, which improves the life and performance of the system, along with performance guarantees for the project.
          Saturn Power, founded in 2007, lists over 200 MW of solar, battery storage and wind power projects that it has developed and contracted, including developments in Ontario, Western Canada, the United States, Turkey and Bermuda. The company, which also has expertise in project financing, engineering, procurement and construction (EPC) as well as the operation and maintenance of existing renewable assets, has been actively engaged in the BESS and energy storage markets since 2017.