Some stakeholder consultations on hold during OEB governance transition
Following consultation with Ministry of Energy staff, the Ontario Energy Board has identified a number of regulatory processes that may be shelved or delayed. These include policy initiatives that have already been launched for which the OEB will defer further external stakeholder engagement activities during its government-mandated transition to a new governance structure.
          Stakeholder consultations will continue, as applicable, with certain other initiatives underway during the transition. See table.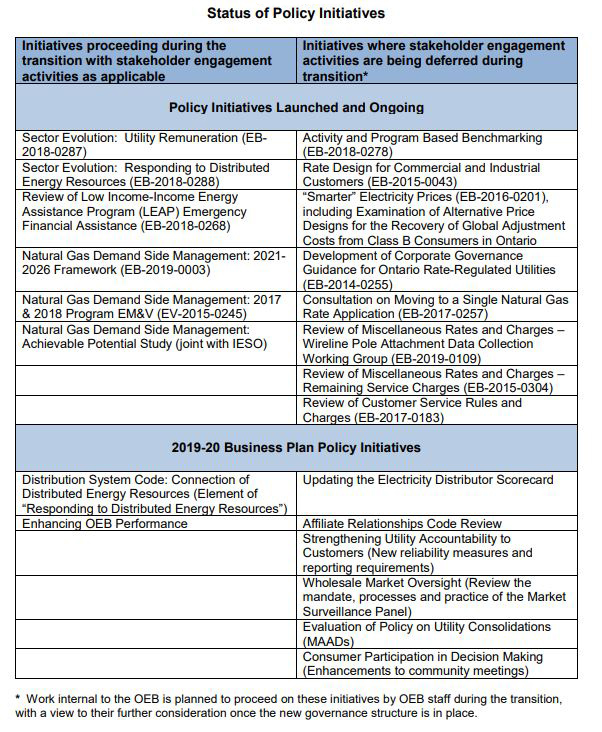 Material changes to the OEB's corporate governance structure were mandated by amendments to the Ontario Energy Board Act, 1998 in legislation that received royal assent May 9.
          Key changes include the creation and appointment of:
• A Board of Directors who will be responsible for governance and strategic oversight of the OEB, "interfacing" with the Minister and the government. The Board Chair will "be accountable" to the Minister "for ensuring the independence and effectiveness of the OEB's adjudicative process."
• A CEO to provide executive leadership for all operational and policy aspects of the OEB.
• Commissioners to take on the adjudicative roles for hearing and determining matters within the OEB's jurisdiction. The Chief Commissioner will assign cases and ensure "the timeliness and dependability of the regulatory process." (Summary of changes by David Stevens, Aird & Berlis.)
          The changes follow from recommendations in the Ontario Energy Board Modernization Review Panel Final Report. For more information see, "Ontario's bold correction to 'the hydro mess'" IPPSO FACTO, April 2019.