The Energy Web has launched
The Energy Web, a comprehensive online energy services platform described as "The Grid's New Digital DNA" went live on June 19. To listen to its advocates, 2019 will be remembered as the year when the energy market changed forever, when transactions finally became virtually free and frictionless for everyone. The Energy Web Chain (EWC) is not merely a trading platform. It's described as "a foundational blockchain specific to the energy sector on which any number of applications can run for various use cases." Examples include energy trading, renewable energy certificates, electric vehicle charging, settlement for grid flexibility services, transactive Peer-to-Peer exchanges with distributed energy resources, and more.
          Some observers believe this could be a major step towards a new era of advanced digitized global energy business operations. One of the cofounders describes it as "an energy exchange engine to enable a transactive grid." It is comparable to establishing a universal common language for the operation of grid connected technology. The platform is already attracting wide interest from the energy sector and beyond.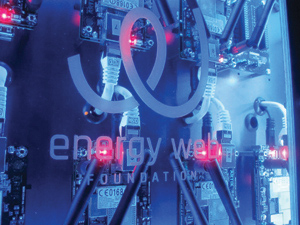 The Energy Web is a melding of several existing technologies and concepts. It is a scalable, adaptable online operating system designed to enable almost anyone and anything to easily participate in energy markets. More specifically, the Energy Web is a public blockchain which runs on a decentralized network of validator nodes hosted by companies affiliated with the Energy Web. Hosts include utilities, grid operators, energy companies, and energy blockchain software developers. As the technical options for generating and managing energy expand, the value of systems for dynamically managing and marketing them can be expected to grow in tandem. The Energy Web is not just an innovation in itself but a platform on which a range of later innovations can be built.
          Behind the EWC is the Energy Web Foundation (EWF), a non-profit organization that has attracted support and subscriptions from some of the world's largest public and private energy companies. Built on the open source model, and a well-respected form of digital currency, the Energy Web Chain (EWC) starts with a level of transparency and trust that enables rapid expansion. Corporate affiliates include established energy companies such as Acciona, AES, Centrica, Duke Energy, E.ON, ENGIE, General Electric, PG&E, and Shell Energy. By March of this year, more than 100 affiliates had signed on, including State Grid EV Service Co., a subsidiary of the State Grid Corporation of China, the world's largest utility. Other Energy Web members include utilities, grid operators (TSOs, DSOs, ISOs), IT companies, DER companies, renewable energy companies, and blockchain software developers. Only time will tell, but the system could quickly evolve into a viral new platform used to manage energy transactions and mediate countless interactions between human beings and energy systems.
          Consider what the EWC has going for it. It's free, it's secure, it's adaptable and responsive, and it's trusted by major players. It may allow software designers to translate the complex operation of transactive energy systems into a smorgasbord of widely disseminated, finely-targeted consumer-oriented apps. It could become the primary vehicle through which people assert control over their relationships with energy systems in the future. Some people draw analogies to a wide number of online interfaces currently used to mediate retail transactions, featuring qualities that appeal to end users: being time-saving, information-rich, and empowering.
          For those who follow energy markets, the Energy Web is conceptually ambitious because it deals with wholesale market transactions at the same time as facilitating transactive energy operations at a much smaller scale.
          It appears that the electricity sector was more than ready for an initiative of this nature. "We now have corporates from different markets across the world, that are not part of some standard-setting effort, hosting a part of an IT solution that is fully open source, decentralized, requires collaboration, and is public," said Jesse Morris, EWF's chief commercial officer. This level of collaboration shows that the energy sector is leading blockchain development, he said. "If you look at blockchain projects in other industries, you don't have corporates participating in public networks," he said. "The energy sector is leading the rest of the world."
          The Energy Web won't lead actual market development on its own. It expects to rely on developers creating distributed apps to provide most of the actual services to end users. In fact, in its work with various energy sector companies, EWF notes that important questions often arise about what is appropriate to do "on chain" and what is better left to "off chain" processes. The Energy Web is designed to operate more like a shared infrastructure, a backbone, or a basis on which to build more elaborate services. As such, in a sector struggling to determine what kind of change lies ahead, studying how this infrastructure works may be one of the better options for getting a sense as to the future of the industry.
          Few would suggest that the Energy Web will completely replace the existing systems for energy transactions. However, it may be prudent to consider the implications if this system or one of its offsprings were to grow into an almost universal window on the energy system, and become a widely relied upon medium through which people make choices about where to buy, trade and supply energy services.
          Of the many concepts and business propositions vying for roles in the global energy system, the Energy Web seems well positioned to rise in prominence. Even if it does not secure a dominant presence in the energy system of the future, watching what works and what doesn't for this new venture, and how it evolves in the near future, will very likely offer revealing lessons for anyone trying to assess the prospects for new energy businesses and the forces shaping the direction of energy sector evolution.
          See related story "The Energy Web launched as first blockchain tailored for energy" also in this issue of IPPSO FACTO.
A version of this article is available at this location on LinkedIn where users may read comments and add their own.