Hydro Ottawa offers customers solar / battery microgrid service
Ottawa: The Canadian Electricity Association recognized Hydro Ottawa Ltd.'s MiGen Transactive Grid May 15 at its Centre of Excellence on The Hill conference. Originally launched in 2017 as The GREAT-DR, the trial project has received additional funding and partnerships and has been relaunched under the MiGen brand.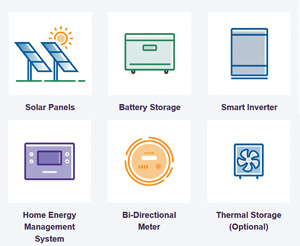 Under this project, with an initial investment, qualified participants will gain a state-of-the-art solar generation system and control devices at a significantly reduced cost. The integrated system includes roof top solar panels, a Home Energy Management System (HEMS), a smart inverter, battery storage, air-source heat pump with thermal storage (optional), a bi-directional meter and a "critical load panel" for emergency power.
    Shaping the electricity flow profile is done in real-time by adjusting demand, generation and storage within homes. This is performed by an intelligent transactive agent at the neighbourhood transformer that negotiates through a Customer Agent with the Home Energy Management System.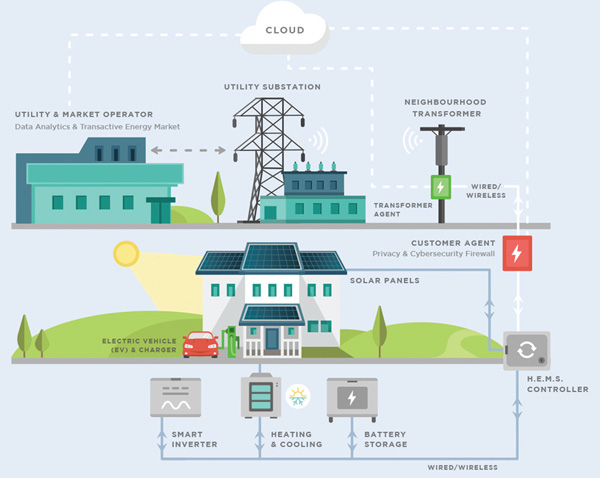 Through MiGen, participants can collaborate with their neighbours to address their electricity needs. For example, if a participant needs to charge their EV, the system can signal other homes served by the same transformer to see if they have the extra solar generation or storage capacity needed to charge the EV. If available, participants could negotiate with their neighbours to secure the electricity – all without the need to involve anyone else, including Hydro Ottawa.
    MiGen Transactive Grid is a microgrid technologies trial program led by Hydro Ottawa. Phase 1 is partially funded by the Ontario Ministry of Energy, Northern Development and Mines' Smart Grid Fund and the LDC Tomorrow Fund. The trial program is backed by numerous industry and technology partnerships.
    Proponents stress that the system offers the benefits of:
• Decentralized and automated demand response and transactive energy through to the grid edge.
• Guaranteed better demand response for the market operator.
• Increased grid control and flexible operation for local distribution companies (distribution system operators).
• Lower cost and more resilient than traditional grid shoring solutions.
• Agent-based and fully standards-compliant (esp. IEEE2030.5).
• Adherence to Privacy-by-Design principles and best cyber security practices.
• Encourages interoperability and democratization of the Grid (open source and royalty free platform solution architecture).
          See also the feature story on Opus One, a partner in Hydro Ottawa's MiGen project, elsewhere this issue.