OPG completes 4 solar collaborations with First Nations
Nanticoke, Ontario: Ontario Power Generation announced March 29 that its partnership with the Six Nations of the Grand River Development Corporation and the Mississaugas of the Credit First Nation had completed its first-ever 44-megawatt solar facility at the former Nanticoke Generating Station site.
    In 2016, the Independent Electricity System Operator awarded a contract to OPG and its partners to build Nanticoke Solar, OPG's fourth First Nation partnership. PCL Construction was awarded the construction contract for the Nanticoke Solar Project on March 13, 2018. It was also awarded the supply contract for the project's photovoltaic solar panels and racking system.
    With this project, 192,431 solar panels span 260 acres on the shore of Lake Erie.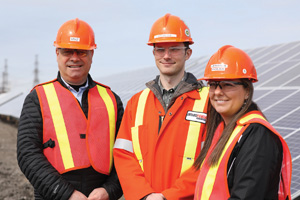 In other renewable energy partnerships with Ontario's First Nations, OPG has the Lac Seul GS (with Lac Seul First Nation), the Lower Mattagami River Project (with Moose Cree First Nation), and the recently completed Peter Sutherland Senior GS (with Taykwa Tagamou Nation).