IESO outlines proposed plans for contract amendments anticipated for Market Renewal
As part of its Market Renewal Program the IESO has indicated that changes to existing Power Purchase Agreements and Clean Energy Supply-style contracts will likely be necessary. Considering the large number of contracts in operation in Ontario, the implications could be far reaching and impactful for many Ontario power producers.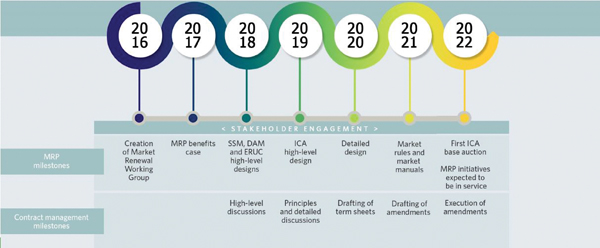 During the Stakeholder Advisory Committee meeting of April 24, the IESO outlined its current proposals for making contracts consistent with key elements of the Market Renewal Program. The IESO has noted that it will not be using this initiative to extract value from existing contractual arrangements. The IESO presentation explained that "Implications from the energy stream arise mainly from the introduction of a Day-Ahead Market (DAM) and a Single Schedule Market (SSM) with locational marginal pricing, as they impact the mechanics used for MP contract settlement." Impacts on contracts from the capacity stream are more complex and are outlined in the IESO's presentation available on the IESO website.
    The IESO noted that "The primary principal to be employed by the IESO is to proceed on the basis of the existing provisions in the relevant contracts." It explained that the IESO's focus is on "making principled amendments based on the provisions of the applicable contract and not on achieving a particular commercial outcome."
    IESO plans to co-ordinate the timing of its contract amendments with the go-live date of the Market Renewal Program. The work will likely be broken down into several phases including development of principles, development and finalization of terms sheets, and drafting of amending agreements. A preliminary general timeline is shown in the graphic below.
    The IESO noted that it will continue to address contract implications from the MRP "as a separate initiative that is distinct from energy and capacity design stakeholder engagement activities." It promised to implement mechanisms to advance contractual discussions including webinars/meetings for all stakeholders, maintaining a dedicated contract management MRP webspace, smaller meetings on an as-needed basis, and other mechanisms.
          For more information, readers may wish to review the document titled "IESO's Approach to Amending Market Participant Contracts in Response to the Market Renewal Program" posted on the IESO website. sac-20190424-approach-amending-contracts-response-to-mrp.pdf.