New planning paradigm is needed to properly integrate DERs: Mowat
Distributed Energy Resources (DERs) can be very effective in stimulating competition and innovation, but significant challenges must be faced to make sure costs and risks are properly managed. These are amongst the central observations of a report by Mowat Energy, released in April 2019. Authored by Paul B. Sommerville, the report surveys a wide range of regulatory, economic and policy issues surrounding the treatment of DERs and makes a number of noteworthy recommendations on practical implications for Ontario.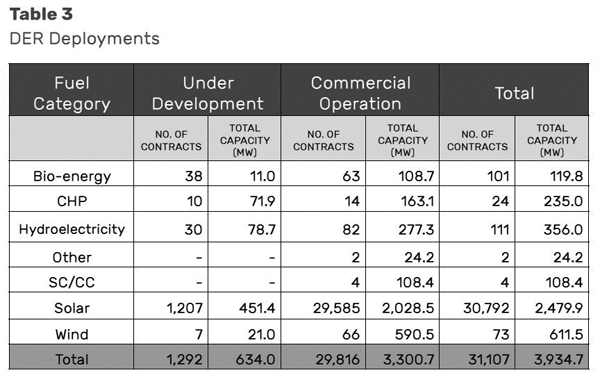 The Mowat analysis attempts to form a bridge between a high level economic perspective, concerned largely with ensuring effective operation of economic functions such as competition and innovation, with a regulated utility perspective, one that must minimize risk for all classes of ratepayers and adhere to a rigorous system of regional planning for electrical infrastructure. The tension between the two perspectives becomes apparent at several points in the analysis, and may in fact be a recurring issue for anyone seeking to define a balanced approach to integrating DERs.
    Reviewing a range of regulatory approaches and case studies for lessons applicable in Canada, Mr. Sommerville appears to find a happy medium in regulatory arrangements that preserve a basic stable centralized supply infrastructure, supplemented by market-driven DERs competing in specified areas of the market identified through a regional planning process. Consistent with the views of many in the field, the report places high value on the development of a rigorous province-wide system of Benefit-Cost Analysis, in order to objectively and systematically assess the impacts of a given DER proposal.
Balanced analysis will be essential
The Mowat report begins by acknowledging the likelihood of "a significantly more dynamic and diverse market model, which has the potential to maximize customer options, improve system reliability, as well as to optimize the system from a cost-effective point of view. This transformation can create opportunities for enhanced competition within the sector, using market structures."
    However, it quickly cautions that "This process requires a planning and regulatory architecture that provides an accurate and consistent methodology to inform system operators of the virtue of any particular distributed energy resource installation." Stressing that "Evaluation methodology should be the product of consultation with stakeholders," the report says, "The most reliable vehicle for the renewal and transformation of the system is a regional planning activity that enables the focused participation of all stakeholders within a transparent valuation environment."
    Echoing the concerns of many stakeholders, a significant chapter of the report is devoted to cost benefit analysis of DERs, examining a number of cases where it has been used to varying effects. While there is likely wide agreement on the usefulness of transparent valuation methods, a number of questions are raised about the types of operational visibility required by the IESO, given the potentially expanded role of local network operators serving "as a go-between, interfacing with the DER asset and the broader system operator so as to maintain visibility of the DER outputs into the system."
Adapting Regional Planning for new challenges
Acknowledging that "The need for refined planning and evaluation processes leading to the accommodation of DER solutions runs through the literature," the persistent question of equity between customer classes receives careful attention.
    The report notes that, "It is possible that an evolved regional planning process will identify possible regional advantages associated with the introduction of DERs throughout the region, located within individual utilities but serving a regional or broader system purpose. An enhanced regulatory process would acknowledge, in very practical and economic terms this fact and would enable an apportionment of cost and value on a regional basis. The fact that a shared DER asset is located in a particular utility ought not to deprive other utilities of the costs or benefits associated with it."
    Operational assessment methods will also need to be refined. "Particularly in circumstances where two-way flow of electricity is contemplated there is a real potential for disruption upstream unless standards are imposed which ensure effective interoperability and visibility to the system operator."
    The challenges for regional planning are substantial: "In developing regional planning templates regulators need to embed considerations related to the reliability, affordability, and efficiency of the resulting distribution system." The report considers systems in which LDCs would systematically maintain inventories of prospective DER projects in their respective territories, an undertaking that would be challenging for some LDCs under current circumstances.
    The report offers a very constructive suggestion in this regard: "A material assist to this process would be a requirement that local distribution companies develop and publish their assessments as to where DER installations may be most valuable within their respective franchise areas. Such assessment should include the development of estimated utility costs associated with those identified."
Difficulties with the existing framework
The Mowat report acknowledges a fundamental challenge that stems from the current regulatory framework for LDCs, which assumes a monopoly supply and distribution model with very low risk. "Engagement in DER proliferation by the regulated utility may not be consistent with this architecture," the report says. "If LDCs were to be authorized to engage in DER through their regulated operations, a number of questions are raised, and the OEB's guidance on smart grid, contained within its 2012 Renewed Regulatory Framework for Electricity Report (RRFE) explicitly prohibited LDCs from engaging in behind-the-meter installations."
    Another difficulty arises from the relative pacing of planning processes, which can be slow compared to the evolution of technology. Noting that some DER proposals will be found to be economic at one point, the report says ,"It is also important to note that the cost of DER technologies is likely to decrease over time, making once uneconomic projects economic. This is a dynamic environment, and one of the key aspects of the planning process should be the ability to reasonably respond to changing circumstances."
    Institutional factors may create additional impediments, the report notes. "Some utilities may embrace DER as an opportunity to manage supply constraints in regional planning, while others may see it as erosion to load and a potential source of increased rates for nonparticipating customers. This can be a barrier to LDC support or participation unless there are other benefits to the LDC such as credits for CDM plan results or other business drivers, including compensation for a possible system platform role. Trying new DER approaches may also not align with the culture of many LDCs since it has the potential to increase risk and competes against "safer" routine investment for capital allocation. This is compounded by the regulatory capital approval process where LDCs may be capital constrained and are typically and increasingly compared against their peer group for metrics."
    Based on this analysis, it appears that the application of traditional regulatory principles, combined with rigorous regional planning, can be used as a foundation for ensuring that sound economic decisions on DER integration, with benefits for most customers, will be the norm. However the regulatory and planning practices will need significant attention in the near term, and comprehensive tools including transparent benefit cost analysis will likely be crucial in these processes.
    Soon after this report was released, the Mowat Centre announced that it would be closing its operations. For more information, see "Distributed Energy Resources: The Role of Regional Planning, New Benefit-Cost Methodologies and the Competitive Landscape," Mowat Research Report #190.
          The report is available online at https://munkschool.utoronto.ca/mowatcentre/distributed-energy-resources/.