Ontario nuclear industry looks to young people and suppliers to stir innovation
As the world debates how to deal with climate change, the nuclear industry is attracting large numbers of young people intent on finding new options for managing and deploying carbon-free power. Both Ontario Power Generation and Bruce Power recently explained how their life extension and refurbishment plans are expected to create work environments that foster innovation, reshaping both the industry and the workforce for a future very different than when today's nuclear power plants were first built. New forms of nuclear technology are progressing quickly, as are new ways of operating existing nuclear facilities.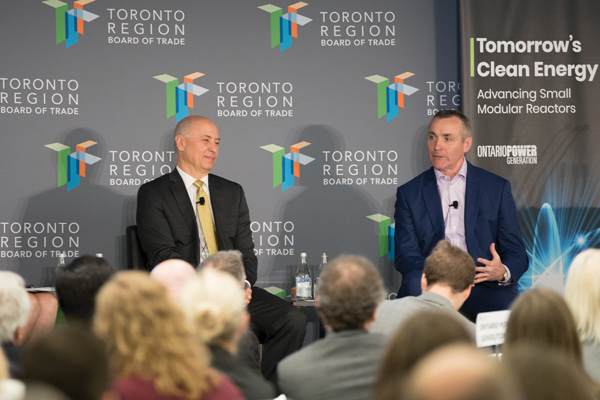 Bruce Power CEO Mike Rencheck (left) and Ontario Power Generation CEO Ken Hartwick (right) speaking on April 17. Photo: Sarjoun Faour Bruce Power's President and CEO Mike Rencheck, and OPG's new President and CEO Ken Hartwick, speaking jointly on April 17 at the Toronto Board of Trade, outlined their respective companies' efforts to create a "culture of innovation," making sure their power plants and Canadian nuclear technology stay ahead of the curve, and possibly even take on world leadership roles. Developing and disseminating new approaches to applying nuclear technology has become a top corporate priority. Recruiting new employees and encouraging them to be creative and invent new ways to use the technology is a key part of the long term strategy for both companies.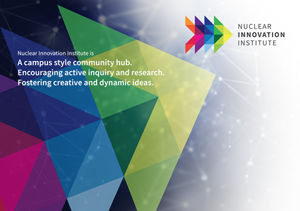 A prime example is Ontario's Nuclear Innovation Institute, situated close to Bruce Power, which offers education and training in many forms, clearly oriented and styled for a younger generation. Describing itself as "A Campus Style Community Hub," the Institute stresses "Collaboration & Continuous Learning," "Active Inquiry & Research," and "Fostering Creative & Dynamic Ideas."
    The initiative is moving quickly. On March 29, Ontario's Nuclear Innovation Institute (ONII) hosted a Regional Skilled Trades Advancement Forum in Walkerton "to gather input and insight on the opportunities to work collectively as a region to expand and increase the supply of skilled trades to meet future demand." On April 3, the Institute announced it had received funding to expand its local skilled trades network and hired a new Talent Development Officer. The appeal to young people making early career choices is unmistakable.
    "OPG also launched a capacity-building initiative that aims to directly put more Indigenous people to work in the nuclear industry and specifically the Darlington Refurbishment," said Hartwick. "The Indigenous Opportunities in Nuclear program, or ION, has been a great success since it began last year."
    Nuclear power is being re-invented along with everything else in the energy industry. Writing in the New York Times on April 6, Joshua S. Goldstein said, "[D]ozens of American start-ups are developing 'fourth generation' reactors that can be mass produced, potentially generating electricity at lower cost than fossil fuels."[1]
    The leaders of the Ontario nuclear industry make it clear that they are focused on recruiting people to take on historic challenges. Mike Rencheck: "We are actively introducing young people into STEM (Science Technology, Engineering and Mathematics). Ontario's Nuclear Innovation Institute is a great example." Ken Hartwick sees it as essential part of doing business: "We want to make sure we have the grads."
    Mr. Hartwick stresses that a career in one of the nuclear trades can position a new graduate in leading edge technology: "These aren't the trade skills of 30 years ago." AI and high tech are now part of the daily work for many skilled trades. "AI has helped us improve both our operations and our maintenance," Mr. Rencheck notes.
    Both of Ontario's nuclear CEOs are visibly proud of Canada's contribution to the world supply of medical isotopes. Although Canadian reactors already generate a large proportion of these products worldwide, Mr. Rencheck believes that, with a little innovation, many more practical applications could be found for Canadian-made isotopes. "These are life-saving and life-changing treatments. We can be a world leader in this area," Mr. Rencheck says.
    The potential for innovation doesn't stop there. Rencheck notes, "The next step in power generation isn't just about producing electrons. It's about the type of services that can help other sectors and other businesses."
    Mr. Hartwick explains, "We are working very actively with trade unions and skilled trades." Citing an example close to home, Rencheck outlined how Bruce Power has worked with an Indigenous company to refurbish an abandoned factory in Paisley to make specialized clothing for nuclear workers. "We helped create an Indigenous supplier network to look for partnerships. We see a transformation with opportunities for Indigenous people."
    Innovations can come from many sources including through these new and evolving supplier networks.
    "We ask people to be curious, to rethink how we do things," said Hartwick. That sounds like a constructive way to approach many ventures, within the power industry and beyond.
    For more information see nuclearinnovationinstitute.com/.
Note: This story is also available on LinkedIn at this location, where readers can comment, share and use other social media functions.