EPS AB finds a wide variety of customers are ready to adopt onsite power in Canada
By Stephen Kishewitsch, with files from Jake Brooks
Judging from recent business results, it would be a mistake to underestimate the growth potential of new onsite power and co-generation in Canada. One company, starting from a relatively small base, has found a wide range of customers are ready to install new onsite power generation facilities in all kinds of settings, from one end of the country to the other. In less than 8 years, EPS AB has built or assisted in building more than 35 onsite power projects in Canada, totaling more than 100 MW.
          In each case the new onsite power facility has allowed the customer to meet its energy needs at a lower total cost than buying power at prevailing market prices. And that's just the beginning of the benefits. Customers also report improved reliability, better certainty over long term costs, improved environmental performance, and other gains.
          Jan Buijk, the Founder and CEO of EPS AB says, "As the market evolves, I believe that many customers will realize that the most reliable way of lowering electricity costs is through continuous duty on-site cogeneration and power generation."
Combined Heat and Power, or the cogeneration of heat and electricity, can be seen as a kind of forgotten man in the power system, the unflashy B-line player on the team, reliably getting the job done while others get the headlines. There will always be need for heat, and if operators can produce both heat and power at once, significant gains are available. Although policy makers, utilities and analysts acknowledge the advantages of cogen, it seems to spend all its time in the background. Given the renewed interest in cost-conscious power sources, the prospects for CHP may be improving, as markets and policies continue to evolve across the country.
          The Guelph-based company EPS AB Energy Canada Ltd., a partnership with Italian company Gruppo AB, has found significant interest in its containerized CHP systems that can be dropped into place. These pre-engineered packages need only two to four standard hookups: gas supply at the enclosure wall, hot water and/or steam at enclosure wall, and electricity at the generator breaker terminals. With this kind of system, the company has found client after client is ready to transition from being a buyer to being a maker of electricity.
          Although there is no central database of everyone developing onsite power in Canada, it appears that EPS AB is one of the top developers and installers of gas fired reciprocating engine gensets in Canada. No doubt potential customers will be highly interested to hear about how costs stack up. Mr. Buijk acknowledges that cost varies greatly from region to region and a business case is inevitably very site-specific. A typical project cost can range from $1500-$2500 per kW. Smaller projects have a higher cost/kW and larger projects a lower cost/kW. However individual circumstances can make a project viable in one location even though the same project might not be economic in another location.
          Mr. Buijk points to some of the types of opportunities available under the various policy and market environments around the country:
Ontario's CHPSOP 2 Program
Several greenhouse CHP projects resulting from the Ontario's 2nd CHP Standing Offer Program (CHPSOP 2), which was specifically designed to facilitate development of greenhouse and district energy projects that due to the low market price for power otherwise would not be viable. The CHPSOP 2 projects range in size from 2.7 to 13.3 MW. For all these projects EPS AB is the prime contractor, responsible for the design and installation of the entire CHP plant. Typically, the greenhouse would be responsible for providing the building (or concrete foundation for outdoor installations) and bringing natural gas to the CHP plant. EPS AB would then be responsible for the complete system integration and grid connection. A good example of a successful CHPSOP 2 project is Foothill Greenhouses in the Holland Marsh, which decided to build a 3.3 MW CHP plant. The installation is an indoor configuration that utilizes a GE Jenbacher, model J620, natural gas fuelled generator, packaged at Gruppo AB's factory in Italy, complete with heat recovery skid and oil management system.
Save on Energy
Another program that created significant savings for customers interested in developing CHP projects is the Save on Energy program. Under this program, customers could be eligible for up to 40% of the capital cost of a CHP plant. Good examples of projects developed under this program are the 8 MW CHP plant at Polycon in Guelph and an 850 kW CHP plant installed at the Stratford hospital.
Global Adjustment Buster
Another opportunity that is garnering significant attention is the ability for class A customers to reduce their electricity cost by minimizing their power demand during the five Ontario peaks. Using Ontario's Industrial Conservation Initiative (ICI) program, the cost savings are dramatic and could be as high as $600,000 per MW per year. As a result there are several different technologies offered to potential customers to help them reduce load. These technologies range from simply dropping load, to installing batteries and temporary or standby generators. EPS AB says "we believe that the dramatic increase in eligible class A customers, the resulting volatility in being able to accurately predict and 'catch' the 5 Ontario peaks, combined with uncertainty about the future structure of power pricing, would justify investment in a continuous duty natural gas fuelled generator. This will provide the greatest reliability to catch all 5 peaks, and furthermore will cap future cost of electricity to the cost of running this generator, which based on today's natural gas price would be below 7 ¢/kWh. If heat can be recovered this price would be below 5 ¢/kWh!"
          Good examples of this type of installation would be the "GA busters" installed at Conestoga Cold Storage. These projects utilize the Ecomax, 3.3 MW generators with option to add heat recovery at a later date. On days that a peak event is expected, the generators will be started up early enough to make sure that the generator is running prior to any peak event happening and shut down once the peak has passed. As a result, even on days when a peak event happens at 10 AM or as late as 8 PM, the generator will be running to make sure the site demand is kept to an absolute minimum.
Biogas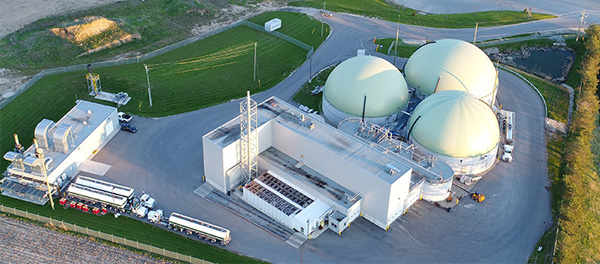 One of EPS AB's biogas energy installations Biogas in most jurisdictions across Canada is shifting away from CHP towards renewable natural gas (RNG), in which case biogas is cleaned and upgraded to natural gas quality to then be injected into the natural gas grid. Despite the direction towards RNG, there still are the occasional biogas CHP projects. EPS AB has supplied biogas cogeneration plants to dairy farms in Nova Scotia as well as a 1.7 MW installation to the City of Edmonton for operation on biogas from an advanced composting project.
Alberta's revitalized market
The provincially mandated phase-out of coal, combined with the transition to a capacity market could generate significant opportunities for on-site power and cogeneration projects across Alberta, EPS believes. The spark-spread is attractive, reflecting a very low natural gas price combined with relatively high power prices. Investing in natural gas fuelled cogeneration can contribute to lowering the overall Alberta carbon footprint. Recent natural gas fired cogeneration projects include an 850 kW installation at Mount Royal University and a 3.3 MW CHP plant at the Enmax district energy centre near downtown Calgary. Both projects achieve system efficiencies greater than 85% with heat recovered in the form of hot water.
ENMAX 3.3 MW district energy facility, Calgary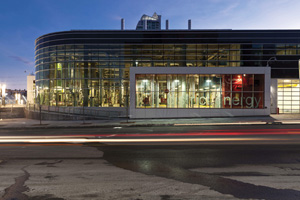 EPS AB Energy was selected as the provider for this facility in Calgary's District Energy Centre, providing a Jenbacher J620 CHP unit. In this case, rather than the company's standard containerized installation, the unit needed to fit within an existing space with size limitations, so that EPS AB supplied the engine and related equipment and ENMAX's general contractor did the integration.
          Enmax's Business Relationship Manager Jason Grabinsky explains that increasing thermal demand from new and existing customers, along with the market price for electricity, made the project not only necessary but attractive. The environmental benefits associated with the CHP unit helped.
          Calgary's District Energy Centre was built to service commercial, institutional and residential buildings in the city's downtown core, the East Village, and surrounding communities.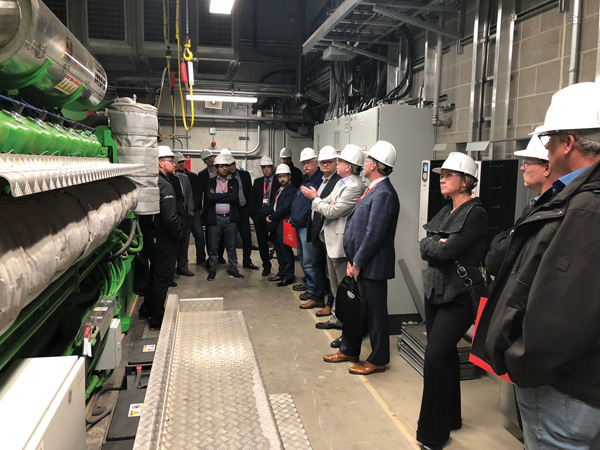 "By its very nature, DE is a very resilient and reliable system," Mr. Grabinsky said. "When the centre took on water during Calgary's 2013 flood, the system remained operational given its dual electrical feeds and on-site back-up power generation. The integration of the CHP with its back-up generator would allow for islanding if need be, but that is not the intention, nor would it be economical to do so. We have a commercial battery storage pilot project installed in the plant (which is connected to rooftop solar PV and the CHP unit) that allows for peak shaving as part of the pilot scope, however, the CHP unit itself is not intended for peak shaving."
Saint-Vincent Hospital, Ottawa
Saint-Vincent Hospital is a complex care facility with about 351,000 square feet of floor space and a capacity currently of 336 beds.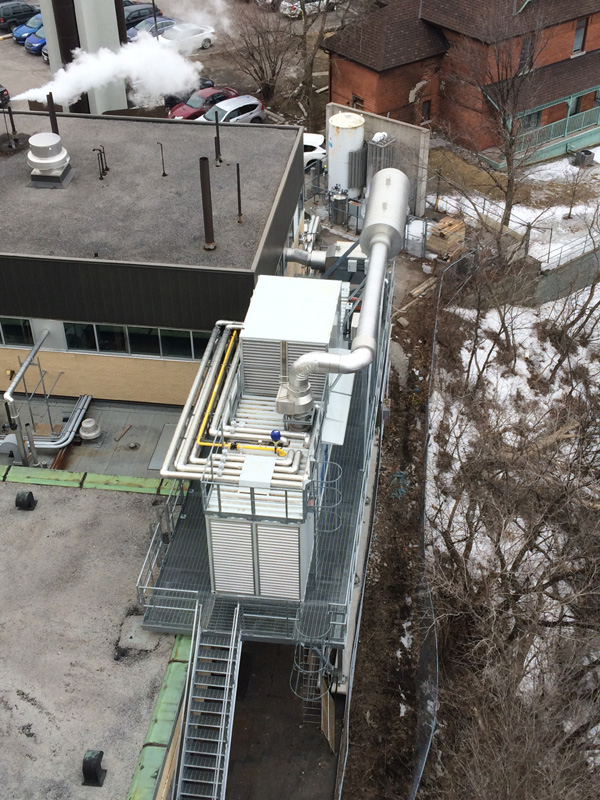 Unlike the usual case for CHP, St. Vincent's cogen unit from EPS AB Energy was sized for the electrical demand rather than the heat load. The heat load is highly variable, explains heat and power plant manager Rejean Proulx: "[I]t depends on what systems are running and for how long. In the summer we use a 200HP boiler on low fire or not at all, using nothing but waste heat from the CHP to produce the steam we need." Average electrical demand is around 726 KW, from a low of 562 kW in the winter to a summer high of 1,100 kW. The system is sized at 633 kW.
          EPS AB was involved initially simply as consultant, helping the hospital determine the size it needed, but then won the contract when it went to tender.
          St. Vincent generates "behind the fence" and runs parallel to the grid. In the summer it uses the system's maximum power output, and in the winter follows the grid within 25 kW, mostly at night. A significant factor in choosing the system was the speed at which it could adjust to the grid when running in parallel.
          The system has already well-proven its worth.
          "Reliability was a very big requirement for us, as was the ability to run in island mode," Mr. Proulx continues. "Ottawa was hit by tornadoes a few weeks back and we actually ran in island mode for close to 2 days, in conjunction with the emergency generator, to keep 100% of the hospital operational. Islanding is something we wanted to add to the flexibility of the overall facility. We wanted to protect ourselves as much as possible from any downtime."
          The continuing low price of natural gas, while the cost of power was projected to keep rising was a definite influence on decision, he adds.
          In St. Vincent's case, the drop-in container package was a major factor in its selection. St. Vincent built a steel platform for the container and installed everything on the roof of an existing building behind the boiler room.
Foothill Greenhouses, King City, Ontario
It's been both a worthwhile investment and a matter of principle for Ron Voorberg, owner of Foothill Greenhouses Ltd. near Newmarket, about an hour's drive north of Toronto.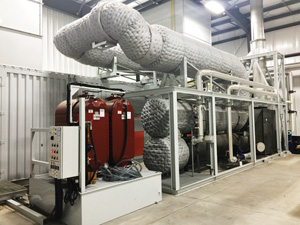 By contract, all the electric power from his 3.3 MW installation is sold to the grid – he doesn't get to use any of it. His 15 acres of greenhouses use the heat: the system runs whenever the price of electricity warrants the fuel and operating costs. This occurs more hours in the winter, but also periodically throughout the rest of the year and during heat waves or during periods of high electricity demand and low renewable electricity flowing to the grid. The heat produced during generation is stored in a heat buffer until it is needed to heat the greenhouse to keep greenhouse temperature at 20 degrees C and to keep the relative humidity down.
          Typically the system will run 1200 to 1500 hours a year. So it's still a double benefit – extra income from the power sale, and by-product heat at a good price. "It was a significant investment," he says, "but it does pay off."
          In fact, the building they put up to house EPS AB's containerized system left room for another one, the same size. 3.3 MW is the largest allowed under the terms of their contract, but if they were to be offered another contract for a second unit they'd take it. The program stipulates that they must use 60% of the heat, and for 15 acres under glass (actually double poly) they could.
          But it's also about the carbon footprint. "It makes a lot more sense than running a gas engine just for the electricity, and wasting the heat," he says. That's something we need to think about now.