Sarnia to get "biggest" BTM storage in North America
New York, NY: On August 15 Convergent Energy + Power and IHI, Inc. announced the launch of what they say is North America's biggest behind-the-meter energy storage system, located in Sarnia, Ontario.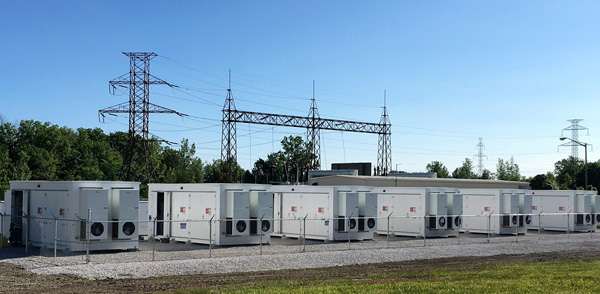 The system, with hardware and software provided by the energy storage division of IHI, Inc., is reducing Ontario's Global Adjustment charge for an industrial customer by curtailing the amount of grid electricity the facility consumes during grid peak periods. The 10 MW/20 MWh system has enough energy to run an electric bullet train for 500 miles. With this commissioning, Convergent counts 26 MW of energy storage assets that it is operating in Ontario alone, making it the largest operator of energy storage in the Province.
          Exposure to Global Adjustment costs, which comprise up to 70% of the average industrial electricity bill in Ontario, incentivizes large electricity users to reduce their consumption during the most expensive grid periods. Convergent entered the Ontario market in 2014, becoming the first company to bring a Global Adjustment energy storage system online. Like Convergent's other energy storage systems operating in Ontario, the new system successfully responded to this summer's peaks with no interruption to the customer. Convergent says its proprietary algorithm is 25% more accurate at peak prediction than public market forecasts and together with the battery system can save large commercial and industrial customers up to 40% on their electricity bills.
          "This system combines cutting-edge technology and design with Convergent's unparalleled peak dispatch services, creating maximum savings for our customer," said Johannes Rittershausen, CEO of Convergent. "Commissioning the biggest behind-the-meter energy storage system in North America would not have been possible without a forward-thinking customer and the innovation of our supplier, IHI."
          Convergent contracted with IHI Energy Storage to provide operations and maintenance services and a capacity guarantee, in addition to the energy storage system. This project marks IHI Energy Storage's entry into the Ontario market, with another 21 MW contracted in the region. IHI Energy Storage's Ontario offering includes a neural-network based forecasting tool (a type of artificial intelligence system), ES/Forecaster.
          "IHI Energy Storage is pleased to work with Convergent on this advanced energy storage system," Toshiaki Nishio, Managing Director of IHI Energy Storage, commented. "We look forward to seeing the impact this project has on Ontario's energy landscape and welcome the opportunity to leverage our software and systems to decrease customers' Global Adjustment charges."