How the Green Button Initiative could open up a world of innovation
Sometimes a simple idea can have a big impact. With easy access to their own Green Button energy consumption data and the ability to securely share their data with innovative applications and services, consumers and businesses are discovering new ways to smarten up their energy systems, reduce their environmental footprint and save money at the same time.
          "There are huge opportunities for consumers to gain better control over energy use and reduce bills," says Syed Mir, London Hydro's Vice President of Corporate Services & CIO, and Chair of the Green Button Alliance, one of the leading proponents of the Green Button standard.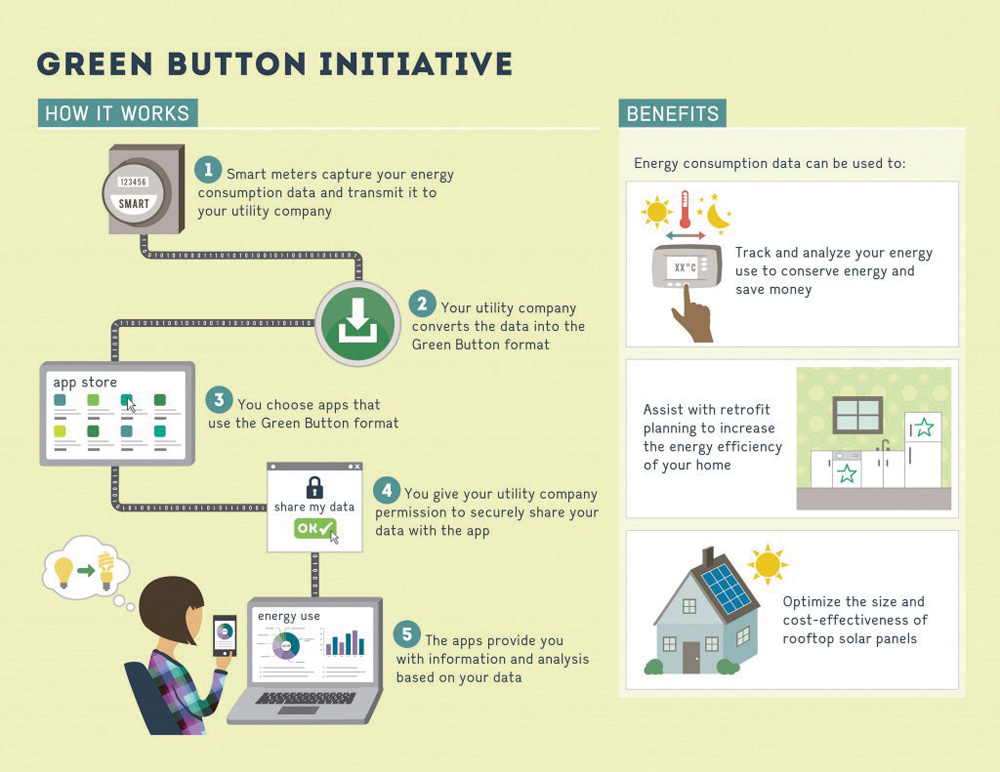 Many experts believe that most consumers have only scratched the surface of the potential energy savings that are possible through coordinated management of their energy usage and equipment with smart communication capabilities. And the savings available to medium- and large-scale customers are even greater, perhaps 5 to 6 times what can be achieved at the residential level, Mr. Mir says. "I see the Green Button standard as a game changer for managing demand and increasing the solutions available for utility customers."
          At its core, Green Button creates a digital playing field for new apps and services, as it enables consumers to provide access to their energy data quickly and securely to third parties, utilizing a common standard for the management and sharing of energy data. Standardized Green Button data is already provided by a range of utilities across North America. The standard may not be widely known to utility customers yet, but it could become an indispensable part of software frequently used by power consumers, producers, utilities and retail energy providers in the years ahead. As new apps leveraging the Green Button energy data become available, its proponents believe the value of secure standards-based data-sharing between utilities, customers, and other services of their choice, will become evident to more and more people.
          Ontario's Climate Change Action Plan (CCAP) committed to expanding the Green Button standard province-wide and the province's 2017 Long Term Energy Plan (LTEP) says "the government will collaborate with the province's electricity, natural gas and water utilities to adapt the Green Button standard, update existing guidance documents for LDCs and create new guidance documents for natural gas and water utilities." Similar commitments are being considered in other jurisdictions.
          Among the reasons proponents are enthusiastic about the standard is its ability to bring consistency and volume to energy management programs across the continent and beyond. Despite the enormous diversity of utility systems in use, with Green Button data, consumers can expect to see apps that work seamlessly across multiple jurisdictions. In addition, consumers will likely have access to an increasing variety of specialized apps and new utility services, many of which would be finely-tailored to the needs of specific customer groups.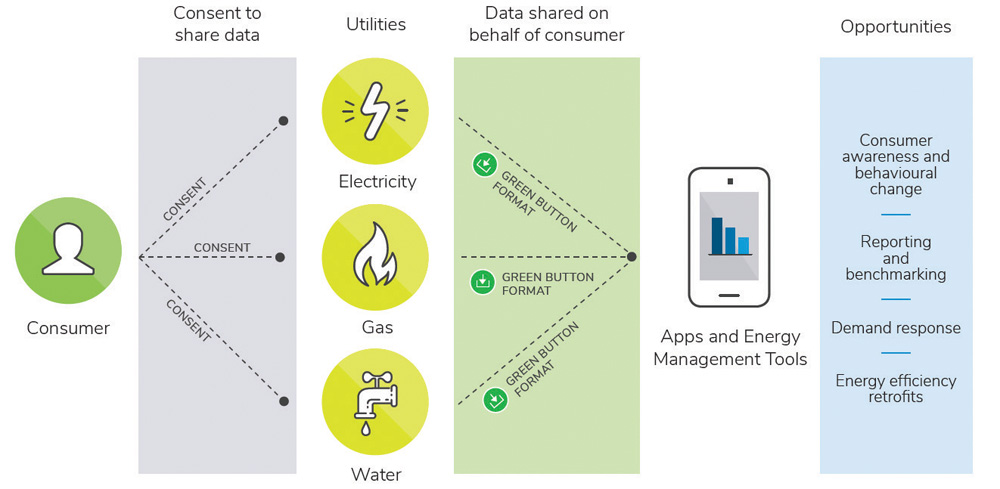 Ontario's LTEP says, "Greater access to information through Green Button will allow consumers to better understand their energy and water usage and use the information to make decisions, such as reducing or shifting their energy use or retrofitting their home or business to improve its energy efficiency. Green Button can also support energy reporting and benchmarking, and create new opportunities for economic development."
          Power project developers in California use Green Button apps for example to compare the effect of different rate plans from utilities, enabling rapid assessment of whether and when to generate, upgrade, or reconfigure their systems. For some vendors of distributed energy systems it has become an indispensable tool for explaining alternative options to their customers.
          Put simply, the Green Button program lets customers automate the collection of their energy usage data. The Green Button standard is flexible enough to handle different types of energy data (electricity-, natural gas- and water-usage) and the utility chooses the interval time. The Green Button standard ensures customer privacy and the secure transmission of data, and includes:
• Monthly billing data, and
• Interval meter data, broken down by different categories of charges and customer class.
          As an example, Energy Toolbase, just one of the many apps enabled by Green Button, figures out how much a proposed generation project would save its host in dollar terms using built in utility rate and avoided cost analysis mechanisms. Such procedures would otherwise require fairly extensive investments of time and money.
          There are two parts to Green Button:
1. The process of accessing the data starts with clicking a virtual Green Button on a utility's website labelled "Download My Data." The Green Button Download My Data function enables homeowners or property managers to manually download their Green Button data in a common computer readable XML format. They can then use software applications to read and analyze the data.
2. Green Button "Connect My Data" allows consumers to authorize the automated, secure transfers of their electricity, natural gas, or water usage data to web and mobile apps of their choice. Consumers can easily access their historical and current usage data, analyze trends, and make informed resource-management choices.
          The associated apps can connect customer consumption data with other data such as local usage patterns, weather information and more, to provide the consumer with comparisons, analysis and recommendations, for example. Utilities can leverage Green Button Connect My Data platforms and services to directly engage with their current customers and possibly to retain customers as more and more "prosumers," or power-generating customers, enter the market. Through the use of standardized Green Button technology, third-party developers also benefit as they are able to more rapidly create and offer products, services, and applications that will work with other Green Button implementations.
          The Green Button standard is an industry-led effort that arose in response to a call-to-action from the U.S. White House in 2011 to provide electricity customers with easy access to their energy usage data in a consumer-friendly and computer-friendly format. With the continued growth and adoption of the Green Button standard, today an industry non-profit organization, the Green Button Alliance, is the hub that gathers forward-thinking industry stake-holders to efficiently lead the implementation of the standard, drive education, collaborate and manage Green Button technical certification programs internationally.
          The Green Button standard in Ontario began with a discussion on how to leverage the province's world-leading investment in smart meters for greater conservation and economic growth. Spurred on by developments in smart meter data access in the United States, MaRS Data Catalyst began conversations with industry and regulators on both sides of the border to determine how to bring the Green Button to Ontario.
          David Eaves, an open data advocate who had been working closely with the White House and various jurisdictions in Canada observed that, "I've always believed that if open data is going to scale we need to find standards that will make it easier for people to engage and work with data. Green Button data feels like a particularly strong opportunity since standards make it easier for citizens and customers to build tools to enable them to understand how they consume energy as well as ways they can reduce their cost and carbon foot print."
          By putting together the ideas and connections from the conversations with David Eaves and others, MaRS Data Catalyst and the Ministry of Energy announced in the fall of 2012 the creation of an Energy Data Access working group that would lay the foundation for the Green Button in Ontario. At the event to launch the working group, the then Ontario Minister of Energy Chris Bentley was enthusiastic about the benefit of the Green Button to Ontarians: "The Ontario Green Button initiative will enable each of us to have better access to information on our own energy use and will help families make choices to save energy and money."
          The working group, including representation from the Ministry of Energy, Ontario Energy Board, the former Ontario Power Authority, Independent Electricity Systems Operator, Information and Privacy Commissioner of Ontario, seven utilities (Guelph Hydro, Hydro One, Hydro Ottawa, London Hydro, Milton Hydro, Powerstream, Toronto Hydro), the Clean Energy Institute, and MaRS Discovery District (Data Catalyst and CleanTech Practice) who worked with partners from the United States to ensure the compatibility of the Green Button standard in Ontario.
          In 2013, Ontario promoted the benefits of Green Button in the LTEP and funded a pilot from 2013 to 2015 to test the roll-out of Green Button Connect My Data with Hydro One and London Hydro. To date, approximately ten electricity utilities have voluntarily implemented Green Button Download My Data, a group which represents 60% of Ontario's residential and small business customers. Ultimately, the Green Button standard could become a way to integrate vast amounts of energy data. For example, it could be used by larger national commercial enterprises such as grocery stores or banks to identify priorities for energy upgrades.
          In 2016, Ontario consulted broadly on a policy proposal to require utilities to implement Green Button and completed a cost-benefit analysis on a range of implementation scenarios. Following the commitments made in the CCAP and 2017 LTEP to expand Green Button province-wide, the government brought forward legislative amendments in November 2017, which were passed in December. These legislative amendments enable Ontario establish a regulatory framework for the province-wide implementation of Green Button. From November 29, 2017 to January 22, 2018, the Ontario Ministry of Energy posted its regulatory proposal on the Environmental and Regulatory registries for public comment. The proposed regulation would require electricity and natural gas utilities to implement the Green Button Download My Data and Connect My Data programs by July 1, 2020.
          As access to Green Button energy data and apps become more widespread, utilities and developers will likely identify new economic opportunities leveraging the capabilities of having thousands of data-enabled energy customers. With access to high quality data, the energy sector may soon benefit from expanded opportunities to innovate. A simple idea could have widespread ramifications.
          See the sidebar for a list of applications developed for Green Button data. For more information see:
• The Green Button for Residential Use: www.greenbuttondata.org/residential.html
• The Green Button Alliance: www.greenbuttonalliance.org/
• Ontario's Green Button regulatory proposal
The Green Button Alliance
The Green Button Alliance is comprised of energy industry thought-leaders from utilities, governmental agencies, innovative companies and associate organizations who collaborate to advance the industry standard Green Button for access to energy- and water-usage data and its secure sharing. For more information about the Green Button standard, certification programs, the Green Button Alliance and its member companies, please visit: http://www.greenbuttonalliance.org
Some apps developed for the Green Button program
The items below are examples of apps that have been developed at various points in the past using the Green Button standard. Some of these apps may not be operational at this time.
• MyEyedro by Eyedro
          MyEyedro is a fun, fast and free way to manage electricity use. At home or on the go, customers can see how they measure up against family, friends, and find out how much they can save when they take control.
• GOODcoins by Zerofootprint
          Goodcoins rewards customers for tracking electricity and for achieving electricity reductions targets. Customers earn rewards for using less electricity.
• BuiltSpace
          Builtspace provides a comprehensive building asset, energy, and service management solution, to optimize energy and operational efficiency across diverse building portfolios.
• Energent
          Energent incorporates powerful statistical energy modeling capabilities to track monitor and assess customers' energy data and facility energy performance.
• HomeBeat by Bidgely
          HomeBeat is a web and mobile application that provides customers with a trusted energy advisor to help them understand energy use by showing the impact of individual appliances on the bill and providing them with tips to reduce consumption.
• Presence Pro Energy by People Power
          Presence Pro Energy delivers real-time, whole-home energy monitoring and smart plug control giving residential and small business users the ability to manage electric use from a smartphone or tablet.
• Wattsly
          Wattsly is your personalized energy butler that helps you monitor and lower your electricity usage, and helps you make great consumer choices for your wallet and the planet. Wattsly was the GOLD prize and People's Choice winner in the 2014 Energy Apps for Ontario Challenge. They were also featured in the U.S. White House 2014 Energy Datapalooza.
• Stream by Energy Profiles Limited (EPL)
          Stream is a comprehensive utility data management system, which enables property owners and managers to understand their utility use and cost at both the portfolio and building level. EPL's retained clients include some of the largest public and privately owned companies in Canada, collectively representing approx. 200 million square feet of commercial space.