Rob McLeese recognized with the Hedley Palmer Award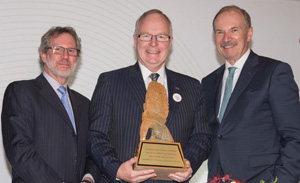 Rob McLeese, President of Access Capital, was the winner of the APPrO 2017 Hedley Palmer award. APPrO Chair Michael Bernstein, introducing Mr. McLeese at the Canadian Power Conference banquet on November 20, noted that Mr. McLeese had assumed a wide range of responsibilities during his career. The roles he has mastered include that of entrepreneur, developer, senior executive, and government policy leader. After funding four power projects in ACI Energy Inc., the US-based company that Mr. McLeese and his father founded, he started Access Capital Corp in 1990, to help other people do much the same thing in the power business.
          Over the last 25 years, Access Capital has been involved in over $2.6 billion of independent power project financing. It has worked on gas fired cogeneration, hydro, biomass, waste coal, wind, other renewables and district heating and cooling. Mr. McLeese joined APPrO in 1990, and over that period he has served as President, Treasurer and a Director. "He always guided the organization with integrity and passion, and his insight was highly valued," Mr. Bernstein said.
          "Those who know Rob are keenly aware of how much he loves dealing with other people globally on power projects and working on committees and industry associations exchanging ideas and finding solutions to issues."
          Mr. Bernstein pointed out that this kind of dedication has led Mr. McLeese to serve as a director of the Creststreet Power and Income Fund, Pristine Power and Fengate Infrastructure, as well as a board member of the Ontario Centre of Excellence and Chair of the Toronto Board of Trade's Electricity Task Force.
          Rob currently serves on the Board of Export Development Canada and is the incoming Chair of its Audit Committee. He is also on the Board of Pond Technologies Inc., an Ontario technology company that is a finalist for the X Prize, a US$20 million prize offered by NRG and Elon Musk, by virtue of its highly successful CO2 capture technology.
          In his acceptance speech, Mr. McLeese highlighted how the sector is much more complex than it was in the 1980s and 1990s. "The variety of market opportunities, various market pricings, and the day-ahead and real-time pricing, as well as the security requirements, have made operating in the environment much more onerous." Financing of merchant and near-merchant plants is next to impossible in Ontario today, he said. However the sector will always require a diverse set of technologies and locations to make up an efficient and reliable grid, he said. Multiple forms of storage will be needed to enable more renewable power. "There will always be opportunities, as long as one is prepared for the long game and ready to size up the opportunities."
          Mr. McLeese has also been awarded the Probyn Prize for innovation in sustainable energy finance and the 2012 Queen Elizabeth II Diamond Jubilee Medal.