Ontario government aims to facilitate adaptable market for electricity
In his address to the annual conference of Ontario power producers on November 20, Ontario's Minister of Energy Glenn Thibeault outlined the broad directions the government has set for development of the province's electricity sector. At least one thing is becoming clear: Maintaining the ability to adapt and respond to new developments is likely to be a major theme of both policy and planning over the next ten years.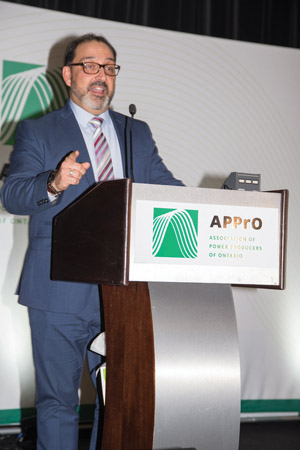 Minister Thibeault began his speech with a brief update on Ontario's energy sector. A key takeaway is that Ontario has built a system with a robust, reliable and diverse supply of electricity. For this position he credited a strong spirit of partnership and collaboration between government and market participants. The province's relatively stable supply situation is largely a result of nearly $70 billion the government has invested in the electricity system since 2003 – most of it paid for by current ratepayers. Future cost increases will be mitigated by maximizing the use of existing energy assets, he suggested. For example, the government anticipates spilling less water and firing thermal resources in a more efficient manner in the future. He added that keeping costs down is the primary task assigned him by the Premier.
    The Minister noted that while many of Ontario's generation facilities were built in the last decade, some are expected to be able to generate power beyond their planned contract life.
    The Ontario government recently released its third Long-Term Energy Plan (LTEP), titled "Delivering Fairness and Choice," setting out the province's energy development expectations over the next 20 years. Noting that projecting energy-related trends over a 20 year timeframe is particularly difficult, he pointed to the extensive consultations and engagements associated with the planning process. The 2016 planning consultations were the most extensive the Ministry of Energy has ever undertaken.
    Addressing the IESO's major current initiative known as the Market Renewal project, the Minister said that the government aims to create a more dynamic and adaptive energy market. Market rules should ensure that all resources, including energy storage and other new and innovative technologies, compete on an equal footing, he said. In the long term, market renewal is expected to provide about $5 billion in savings between 2021 and 2030. He encouraged APPrO and its members to stay involved in the IESO-led Market Renewal Working Group.
    He noted that Ontario's electricity system is over 90 per cent free of the emissions that cause climate change, and is forecasted to account for only 2 per cent of Ontario's overall GHG emissions by the end of 2017. Eliminating coal for power generation in Ontario moved the province into a leadership position in terms of combating climate change. It is sixteen years ahead of the federal government's target to phase-out all provinces' use of coal-fired electricity by 2030.
    The Minister took pains to stress that natural gas will likely have an important role to play in the years ahead, in part because of the increasing reliance on renewables. Renewables now comprise 40 per cent of Ontario's installed capacity. Ontario has about 4,600 megawatts of intermittent wind and solar resources providing bulk supply and nearly 2,600 megawatts of distribution-connected wind and solar resources. He noted that, "as Ontario continues to build upon our successful renewable integration initiatives, dispatchable natural gas-fired generators will continue to play an important role in balancing our system needs."
          Ontario appears to be moving away from prescribing particular sources of supply in future procurements. The Minister cautioned that "blanket policies that target particular forms of generation could be both foolish and costly. If we design our systems and policy approach properly, we can solve for carbon and avoid a prescriptive approach that risks micromanaging Ontario's supply mix." In that regard he singled out Enbridge for their "positive and productive contribution towards shaping Ontario's public policy framework around renewable natural gas."
    Related to the ongoing efforts to decarbonize Ontario's economy, Minister Thibeault highlighted anticipated progress on electrification of the transportation sector. Under the LTEP's forecasts, some 2.4 million electric vehicles will be operating on Ontario's roads by 2035. Hamilton, Mississauga, Kitchener, Toronto and Ottawa are planning to electrify public transit.
    The grid is becoming increasingly complex, the Minister noted. Integration of new and emerging technologies into the system, at both transmission and distribution levels, will continue. As a result of these changes, ratepayers can expect to benefit from increasing flexibility and choice as new technologies are rolled out and integrated.
          See related story on the highlights of the 2017 LTEP, at this location.