New Ontario academy teaching community-focused renewable energy development
By Stephen Kishewitsch
A new initiative based in Ontario aims to collect state-of-the-art renewable energy knowledge and disseminate it through community-based IREA Academies around the world. After only a few months in operation there are signs that the idea is catching on and variations of the IREA Academy are being developed for use in Europe, Africa and South America.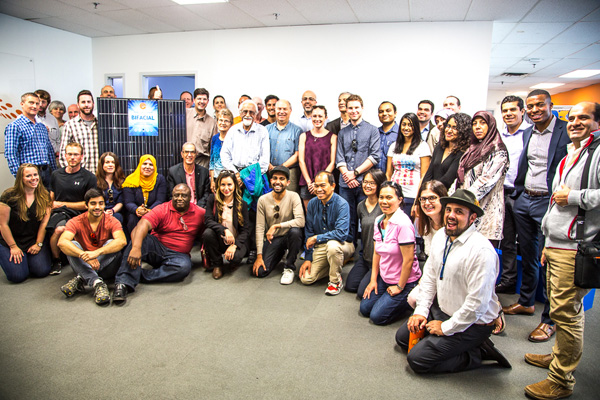 Last June saw participants arrive in Toronto from around the world to gain skills in renewable energy development at the community level, in a new learning format. They came from Algeria, from Tunisia, from Morocco, Iran, Hungary, Germany, Albania, Montenegro, Uruguay, Nigeria, Pakistan, India, Chile, Peru – and also from First Nation communities in Canada. They've gone back now, having picked up hands-on skills that they will use to build community power in their places of origin, and some of them to start new centres of learning built on the same model.
          The event was the first full-scale educational symposium by the International Renewable Energy Academy (IREA), held at the Faculty of Environmental Studies, York University in Toronto, and the model is already being replicated.
          "This is an iterative process, based on the needs and drivers of the local community," explains Professor Fred Schwartz, who created the Academy along with professor Jose Etcheverry. The two had concluded something was lacking in the traditional academic approach: hands-on skill acquisition with a community-building, bottom-up approach. So they formed IREA, the world's first venture of its type, and invited people from around the world to try it out.
          "The next few academies could crop up very quickly and take the initiative into new areas," Schwartz said.
          "We looked at different models – organizations, institutes, universities," said Etcheverry and Schwartz, taking turns. "Should we create an institute? To accomplish what? There are lots of institutes. What we saw was a gap in the teaching and the involvement in project development at the community level. We wanted to teach in an experiential way - how to engage a community in a project, how to scope a project out. Traditionally, a lot of renewables [development] has focused on project development by corporations. If you focus instead on communities it changes the paradigm, the economics, the local context in which things are developed.
          "This is a bottom-up effort. The initiative starts at the community level, with the community gaining the capacity to plan and pull the ingredients together. This is not a colonial model.
          "We're trying to create a groundswell of people interested in having careers, or enhancing their careers, and to be a conduit to training and jobs. But many of them aren't looking to be engineers, knowing how to plug this part into that part – they are going back to be catalysts."
          Their students may go on to places that offer technical training, if they find they need it – or they may already have it and be looking for the other half. There's a lot of training for that, but the policy sector and the ability to work with communities still needs development. IREA has a unique focus, and they can dig down deep into that focus, just as places that do technical training can do in their fields."
          Participants received two days training on the Canadian government's RETScreen Expert system, that evaluates all the inputs needed for a potential project, from expert instructors. Three days of presentations followed from leading experts on wind, solar and related fields, visits to officials in Oxford County and the city of Woodstock, who are committed to going 100% renewable energy, and tours to manufacturing facilities for solar and wind. For practical reasons, attendance was limited to 45 people.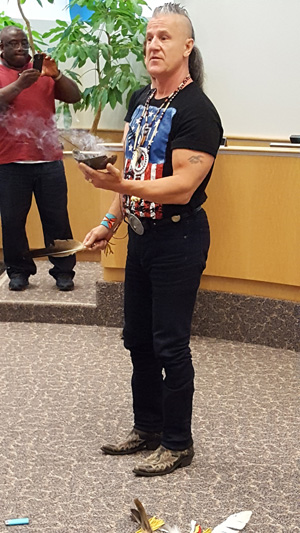 David Grey Eagle at IREA's closing ceremony Nor is it over when the participants go home. The Academy will develop a full two-way communications program, beginning with a new website, through which its former students can describe what they're doing at home, what particular local conditions they've encountered and what solutions they and their community have been able to innovate. Shared experience like this is expected to broaden what the academy and its spinoffs in other countries will have to offer further participants.
          The Academy's first session had another outcome, aside from the how-to, of equal importance: it showed participants what could be done, that it has been done, and gave them the encouragement to do it themselves. "The level of commitment at the political and bureaucratic level in Oxford County and the city of Woodstock was inspirational. It was inspirational for people to go where the technologies are being made, like a solar module manufacturing facility in Mississauga, and to talk to the politicians and bureaucrats who were developing supportive programs. It really energizes people."
          York University provided financial support, NRCan provided the RETScreen Expert training and a 6 month subscription at no cost, and moral support came from a long list of Canadian and overseas organizations.
          For more information or to get on a list for the next Academy: http://rea.info.yorku.ca/
Key topics from June's program
• RETScreen Expert training, 2 days
• Solar Power Development, presentation by Steven Strong, President, Solar Design Associates
• Tour of Silfab solar module manufacturing facility
• Tour of Woodstock, ON solar site
• Visit to Oxford County, meeting with Mayor Trevor Birch, others
• Wind power, presentation by Paul Gipe,
• Visit to Oxford Community windfarm
• Experience in renewables from Uruguay's renewable energy strategy
• Review of the issues by experts from UC Berkeley, Stanford University, Vancouver, Germany, others
• Keynotes from Steven Strong, president of Solar Design Associates, and Donna Cansfield, former Ontario Minister of Energy and Natural Resources
Solar microgrid frees island from diesel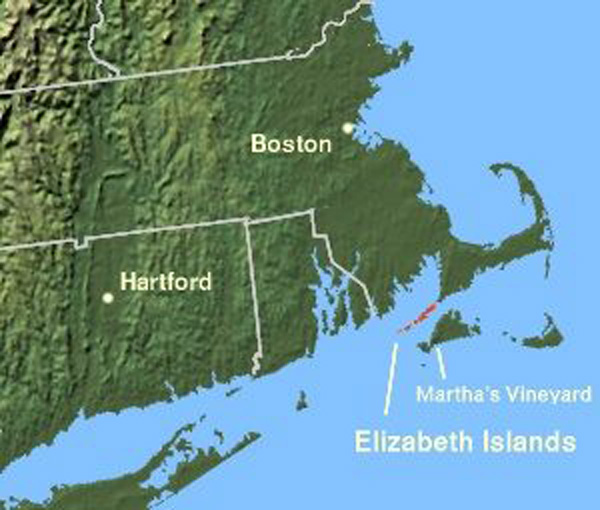 location of Cuttyhunk island A small island "fishing mecca" near Martha's Vineyard, Massachusetts has moved from a complete reliance on diesel power for its electricity to getting fully half of it from a microgrid using solar power plus battery storage, thanks to Steven Strong's Solar Design Associates. In fact, when the summer vacationers leave for the winter, that proportion rises to 80 percent.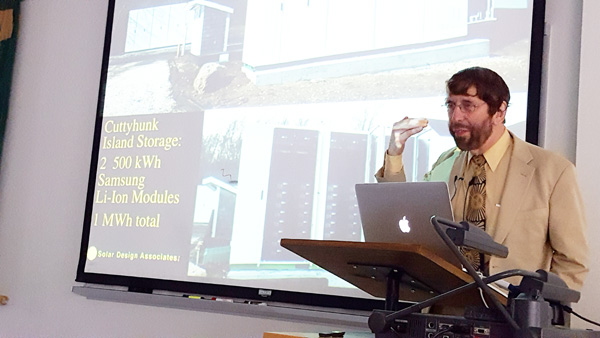 Steven Strong, President, Solar Design Associates Mr. Strong was one of the key speakers at Jose Etcheverry and Fred Schwartz's innovative International Renewable Energy Academy (IREA), which had its inaugural session this past summer at York University. The two professors describe Mr. Strong as a leader and a visionary in the development of local, renewable energy.
          As a story September 12 in  Microgrid Knowledge newsletter describes,
          "The outermost of the Elizabeth Islands, Cuttyhunk is 14 miles away from a mainland port, that being the historic whaling city New Bedford. Cuttyhunk's sole town, Gosnold, has just 75 residents, making it Massachusetts' smallest municipality. All of this means that Cuttyhunk is too small to justify the expense of an undersea electric cable connection from the mainland.
          "Before the solar plus storage microgrid was installed, the island's 174 electric meters were served via diesel generators. Fuel had to be shipped by barge from the mainland, which was sometimes a logistical ordeal for the island's sole power and light company. Diesel can be expensive and creates environmental and permitting hassles. And no one on the island knew how to maintain and repair the generators; mechanics had to be imported from ashore.
          "Of the 'remote' variety, Cuttyhunk's microgrid differs from most in the U.S., which have access to a massive central grid. It is truly on its own, always 'islanded' — the term used to describe when a grid-connected microgrid separates from the central grid during a power outage. It achieves reliability by using multiple resources; a 351.9 kW SolarWorld photovoltaic system, 1.25 MWh Samsung lithium ion battery and legacy diesel-powered generators. A Princeton Power Systems microgrid controller dispatches the resources for maximum efficiency.
          "The microgrid controller is programmed so that if the generators are called upon during a period of modest energy use, usually mid-September to early June, the generator will charge the batteries while it is powering the island. This makes maximum use of the fuel and reduces waste. Other times the solar panels charge the batteries.
          "Steven Strong has been working on solar plus storage technology since the 1970s. He now sees the addition of microgrid technology as the new frontier. "We see enormous potential around the world for this transformational energy technology," he said.