New website helps buyers locate innovative energy companies
A new online service is making it easy to find useful verified information on Canadian energy innovations and the companies behind them. Offering to help visitors to its website, "Discover and connect to Canada's energy innovators," the Energy Innovation Snapshot went online July 12. An initiative of the Advanced Energy Centre at the MaRS innovation hub, the project sets broad goals for itself, saying: "We Catalyze the Adoption of Energy Innovation". Of course one of the more practical objectives is to help buyers and investors of energy technology, wherever they may be, locate Canadian based suppliers of products and services who may fit their needs.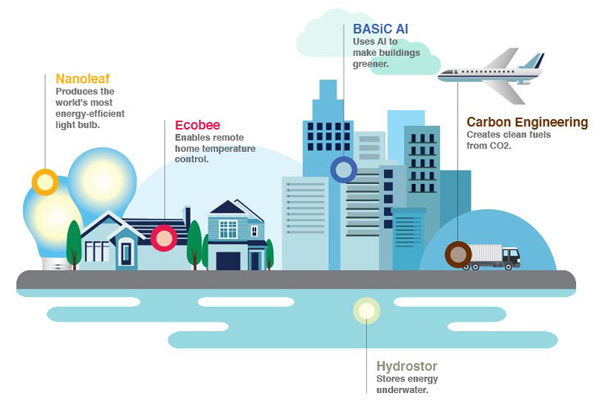 Energy Innovation Snapshot profiles Canadian companies delivering innovative energy solutions. Above: examples of companies and projects on the site. Unlike many online networking services however, the Energy Innovation Snapshot carefully reviews and validates all companies listed on its service. The review process, known as "curation," is designed to ensure that each company listed has commercially deployed their technology, is export-ready and delivers truly innovative solutions.
          "Through our work with innovators and the trade network, we have identified that one of the biggest challenges with adopting energy innovation is understanding what solutions are commercially available today. We believe that the Energy Innovation Snapshot fills a clear market need. This website profiles innovative Canadian companies that have demonstrated project success and are export-ready. The aim of this platform is to match energy needs with technology solutions, and connect Canadian companies with potential buyers and investors globally," said Ron Dizy, Managing Director of the Advanced Energy Centre.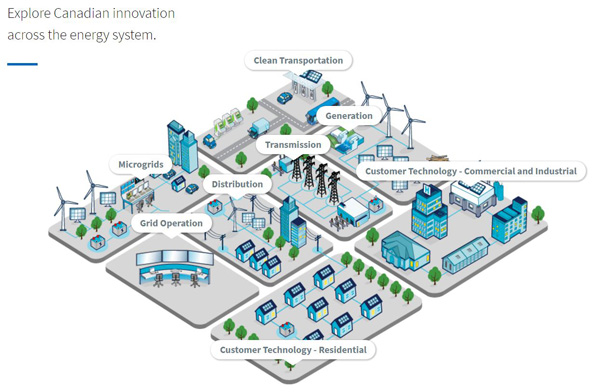 Energy Innovation Snapshot explains that it helps visitors "discover leading cleantech companies and match your energy needs with technology solutions." The Advanced Energy Centre believes that Canadian companies have much to offer international buyers, impressive world-class capabilities in fact, that will be more widely used as more systematic methods become available to find good matches of expertise and technology.
          Examples of some of the many innovative energy companies and projects profiled include:
• Hydrostor Inc: Described as "Bulk energy storage at half the cost of competing battery technologies and on par with new natural gas plants."
• Subnet Solutions Inc.: Offers "Making substations more intelligent through unified grid intelligence solutions".
• N-Dimension Solutions: "Cybersecurity technologies uniquely designed to protect critical energy infrastructure."
• OCSD Biogas Clean-Up to Electricity Production: "Renewable electricity generated using ultra-clean biogas from wastewater treatment."
• dTechs: "The first cost-effective electrical grid integrity solution that enables wireless monitoring of energy losses across the distribution system."
          These are just a few examples selected from many others available on the website.
          Roisin Grimes of the Advanced Energy Centre explains that the profiles listed "provide a snapshot of Canadian cleantech companies and their projects, and enables users to explore innovation across the energy system."
          For anyone with an innovative energy project who would like to be profiled on Energy Innovation Snapshot, it is a relatively simple process to select the 'submit a profile' tab and fill in the form. The project team says it will review submissions and respond within 7-10 working days.
          The platform was created by the Advanced Energy Centre at MaRS, a public-private partnership that "works to break down barriers to market entry, scale and export for Canadian energy solutions." As a neutral third party, the Advanced Energy Centre collaborates with a diverse set of partners, both nationally and internationally, "to create the conditions for energy innovation to thrive."
          The Advanced Energy Centre is part of MaRS Discovery District, "the world's largest urban innovation hub." MaRS currently helps over 1,000 startups launch and grow their businesses. More than 3,000 people working at over 200 organizations, are based in the 1.5 million sq. ft. MaRS Centre in Downtown Toronto.
          For more information, please visit http://energyinnovationsnapshot.ca/