Shaking up grid management and market design
A range of stakeholders across North America are starting to consider some challenging new principles for managing the grid and planning the continental electric system.
          Prompted in large part by formal consultations initiated earlier this year by the US regulator, FERC, in which it invited comment on 5 alternative paths for market design, the discussion has taken some unexpected directions. Although the debate is likely in its early stages, certain insights are attracting attention. A key line of reasoning was articulated in a report released June 26 by Brattle describing what it calls "The Flexible Grid." Pulling together threads from numerous studies and informal discussions at countless conferences, the paper may serve as a focus for debating some of the key issues that have begun to emerge.
          Proponents are suggesting that the grid of the future, and regional transmission networks, may need to be managed according to a revised hierarchy of objectives.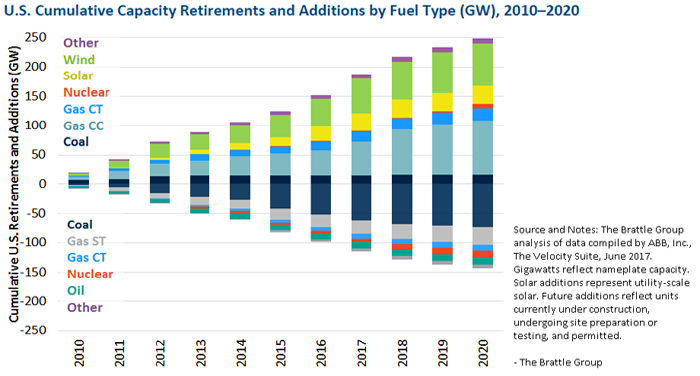 Despite significant shifts in the resource mix, system operators have been able to meet high reliability standards. However, meeting reliability and economic objectives in the future may require more precise definitions of system reliability needs.          Although the grid will still need to meet the same basic reliability requirements as always, it may be doing so with a different set of working definitions. Some market players, with support from various types of power sector experts, are saying that grid management and system planning functions should be priorizing flexibility more, and using a more refined approach to capacity, when setting certain operational objectives and service requirements. Although flexibility cannot substitute for capacity directly, it can go a long way toward meeting reliability requirements economically. It is plausible that the most economic solutions for achieving a given reliability outcome will depend on systems that encourage judicious co-ordination of investments in both flexibility and capacity.
          Mariko Geronimo Aydin of Brattle explains that "planning for the traditional 'peak' is no longer sufficient because the traditional peak is not growing much any more, depending on the region of course. The new 'net' peak after behind-the-meter solar and demand response might be in a non-traditional hour, again depending on the region. Further, other non-peak hours may be constrained and require capacity availability."
          At the same time there may be some new challenges in ensuring capacity availability. Capacity availability is defined in general as the ability to provide operating reserves or energy when needed. Aydin notes that, "If the constrained hour happens during a non-peak hour when many resources are turned down or turned off, some of those resources will need to be flexible enough to turn on or ramp up quickly.  So, providing sufficient capacity isn't just about performance during the peak hours, although we traditionally have planned capacity to meet an expected summer or winter peak.  Having sufficient capacity in all hours doesn't mean individual resources have to be available in all hours of the year.  But the overall portfolio of resources should be able to provide enough available capacity even when many resources are turned off or turned down."
          A number of analysts have observed that the proliferation of resources with very low marginal cost of operation has led to a market where price signals are not achieving everything that was intended when the present markets were designed. See for example, "New pricing paradigm needed for era of low marginal cost, Mowat says," and "More renewables on the grid means new capabilities are being demanded of fossil plants".
          The Brattle report suggests that the term baseload generation has become obsolete in part because it does not adequately define the services provided by coal and nuclear plants. The report states, "given the current trends of market fundamentals, public policy goals, and customer preferences, labeling any resources as 'baseload' and compensating them on that basis alone does not help improve our electricity system's reliability, efficiency, or effectiveness." At the same time, the proliferation of new resources with relatively low marginal costs of operation are starting to displace significant market share from existing baseload generation. "Trends in the power industry and changes in the economics of traditional baseload supply have altered the planning and operational paradigm that was once focused on slicing demand and supply into the 'baseload,' 'intermediate,' and 'peaking' categories."
          The report says, "it is important to understand that 'baseload' and reliability are two different concepts. Maintaining system reliability does not require power generation from any single generator or a specific group of generators that operate during all hours at full capacity. By defining system reliability needs in more precise terms, system planners and operators can answer these questions."
          At the same time that the need for flexibility appears to be increasing, the variety of resources that are capable of providing flexibility have also increased. As a result it seems sensible to ensure the system is oriented towards securing flexibility services in the most economic and market-based ways possible. The Brattle report notes, "meeting the grid's increasing flexibility needs will require that utilities, system planners, policymakers, and market designers develop approaches that:
• Better define flexibility needs to support reliability objectives;
• Enable all existing resources that can provide flexibility to do so, whether in a regulated or market setting;
• Attract suppliers who can provide innovative and cost-effective flexibility solutions."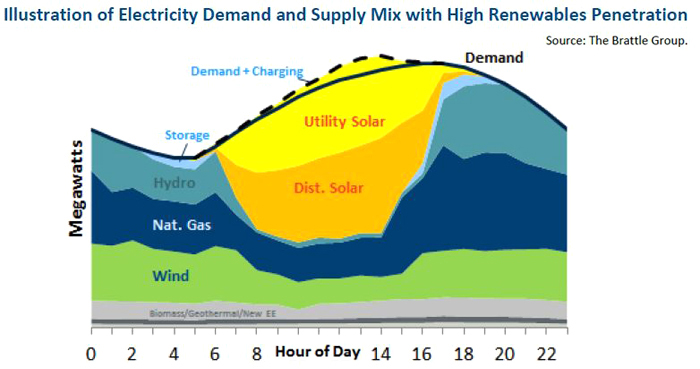 As the figure shows, the available resources that can provide operational flexibility to ramp up during off-peak hours and ramp down during on-peak hours are important and valuable. They include flexible hydro, natural gas-fired combined-cycle and combustion turbine units, and storage (that provide electricity stored from another period). This supply portfolio reflects a mix of variable resources that provide cost-effective energy and environmental attributes, complemented by resources that provide both low-cost energy and operational flexibility. The report also notes that more precise definition of flexibility related services will have implications not just for grid operation, but for long term planning as well: "(R)esource planners have moved away from that framework (baseload/intermediate/peaking) and are exploring the full operational and reliability characteristics of a variety of portfolios to identify the most optimal resource mix that can meet evolving future system needs." This may assist with managing problems associated with surplus baseload generation and negative pricing as well.
          One of the key questions going forward, according to the Brattle analysts, is "How should resource adequacy planning and compensation be modified to recognize that reliability risks are shifting from system conditions during peak hours to include reliability needs during system ramping events, and how should operators determine how much different resources contribute toward addressing the evolving reliability needs throughout the year."
          This new take on grid management is far from the established norm, but it will very likely prompt some penetrating discussion in the near future as stakeholders from all perspectives consider the alternatives for new approaches to market design that will reflect the reality of today's technology, and the need to economically respond to demands of consumers within the requirements set out by regulators and policy makers.
          The study, "Advancing Past 'Baseload' to a Flexible Grid," which was prepared for the Natural Resources Defense Council, is available at this location: http://www.brattle.com/system/publications/pdfs/000/005/456/original/Advancing_Past_Baseload_to_a_Flexible_Grid.pdf?1498482432
          Full title: Advancing Past "Baseload" to a Flexible Grid: How Grid Planners and Power Markets Are Better Defining System Needs to Achieve a Cost-Effective and Reliable Supply Mix
          The Canadian Power Conference scheduled for November 20 and 21, 2017 plans to host an open discussion on issues of this nature as they relate to the energy sector. In preparation for that event, the APPrO Conference Committee is inviting concerned parties and everyone interested in these questions to voice their concerns and suggest issues to address at the conference by posting comments on this article or contacting the organization directly.
— Jake Brooks
This article was also published on LinkedIn. Users may post comments and take part in discussions at this location.