Energy companies advised to cultivate young professionals as part of long term strategy
The energy industry is facing a crucial challenge that goes well beyond adapting to new technology. If companies want to thrive in the rapidly-changing market of the future it is also necessary to prepare for new approaches to hiring and retention of expertise to ensure they are capable of continual adaptation. Research indicates that energy industry organizations are particularly susceptible to the issues of managing change in their workforce. It appears that many companies need to rethink their approach to knowledge management, and accelerate new hires to replace those retiring.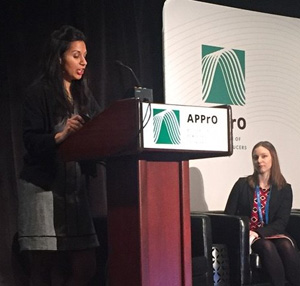 Speaking on November 15 at the APPrO 2016 conference on the topic of "The Culture of Change: Leveraging emerging professionals," Reena Goyal and Mabel Fulford, representing Young Professionals in Energy, stressed that energy industry employers have a lot to gain by identifying new skill requirements among their workforce.
          Ms Goyal explained how YPE (Young Professionals in Energy) helps energy organizations to address these challenges. YPE is a non-profit organization with over forty thousand members worldwide in major cities including Calgary, Vancouver, Houston, San Francisco, London, Sydney and Dubai. YPE Toronto was founded in 2010 and has over 500 members. Toronto leadership includes representatives from both federal and provincial sector organizations, major industry consulting, accounting and law firms.
          One of YPE's activities is a focus on monitoring demographic shifts in the industry, where an increasing number of employees are approaching retirement. That shift has in fact been delayed by some five years thanks to the 2008 recession. As a result, market participants are only now seeing a demographic shift that was expected five years ago – a shift that is now coinciding with a number of other transformations taking place in the sector.
          As mentioned above, research indicates that energy industry organizations are particularly susceptible to these changes in their workforce. Indeed, a leading cause of the sector's failure to replenish its labour force is the common industry practice of "jobs for life," where the need to retain specialized non-transferable engineering skills has further lengthened employee tenure.
          Ontario's electricity industry has begun a major transformation that will expand, replace and refurbish most of the electricity infrastructure in the province by 2030. But this transformation is not just changing the way electricity is generated, transmitted and distributed. It is also intensifying competition in the labor market across Canada, where energy industry employers must identify new skill requirements among their workforce. That means new education and training programs will be needed to fill the knowledge gap left by older employees' retirement, Ms Goyal said.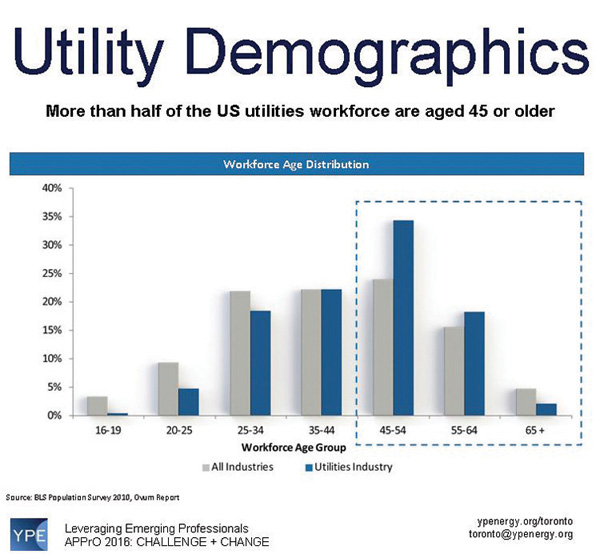 These circumstances together have created a turning point for large industries in the sector, after many decades of stability. Increasing retirement eligibility, the generational shift in the traditional utility workforce and rising turnover and benefit costs are combining to negatively affect the sector's productivity. Ms Goyal stressed that utilities and other large organizations now more than ever need to rethink their approach to knowledge management, and accelerate new hires to replace those retiring.
          These changes also represent a tremendous opportunity, allowing knowledge transfer and career-planning approaches to be aligned with the three emerging imperatives of the energy industry that are being driven by consumers and ratepayers today:
• Freedom of choice in customized energy services
• Collaboration and two-way communication with the local distributor concerning the way they consume energy
• Innovation in the services made available to them.
          Drawing from the work of Canadian business executive Don Tapscott, YPE argues that, by applying internally the same three principles that consumers are seeking externally, organizations can gain strategic advantage in managing their industry's transformation. Companies that better understand how to cultivate the effectiveness of young professionals in the workplace will be more successful in transferring the intellectual capital and the deep industry experience that will otherwise be lost as large numbers of skilled employees retire.
          Later in the same conference session, Mabel Fulford, a consultant with ICF International and also a member of YPE, offered some practical tips to help with the transformation.
          Young professionals seek flexibility above all – of location, of hours, of benefits. Flexibility is the top factor in retaining new young talent. Allowing people to work when and where they want may seem like an indulgence to an employer, but research in fact shows that young professionals are accustomed to it and work more productively in this way. Flexible work policies can also help retain other demographics, including those nearing retirement, who may be willing to stay longer if they can do so on a flexible basis.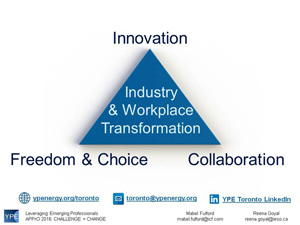 In general, young professionals seem to do best in environments with learning opportunities. They like to learn by doing, and they do well with frequent informal discussions to evaluate how well they've contributed. In place of the traditional, ever-upward career ladder, young energy professionals are eager to try new jobs and actively seek opportunities for continuous learning – a valuable trait when problems to be solved increasingly cross traditional job titles and departmental silos. Management practices like job shadowing, cross training, job rotation and job reassignment can help develop that kind of work environment.
The physical network in the electricity sector is changing from single-direction, centrally-controlled networks to dynamic multi-direction networks, such as distributed energy generation and microgrids. The same shift is visible in the workplace, with the growth of team-based collaboration that brings multiple areas of expertise to a job. That kind of style reflects how young energy professionals tend to think, learn and approach work – through dynamic networks of collaboration. For example, the internet is viewed as a tool to mobilize a collective pool of resources and minds – not simply a repository of information. Young professionals are often familiar with the latest collaborative tools. The Slack application, for example, isn't about slacking off – it is one of the top workplace collaboration platforms. Similar tools are available from Google and Facebook. Young professionals can introduce new tools like this to their companies.
          Innovation in technologies, processes and business models will be at the heart of how energy companies survive and thrive. Young professionals are motivated to innovate, she stressed. A recent survey by Ernst & Young found that 59 percent of all young professionals in Canada want to run their own business. Companies that can harness such entrepreneurial drive and keep it within their organization have a tremendous opportunity.
          Young energy professionals automatically turn to new computer apps to work more effectively. When one does not exist, they often create their own. Collaboration, freedom and choice are the cornerstones of this generation's style of innovation. Companies that harness those values from this generation can provide a framework that enables and encourages young professionals to work with more experienced professionals who know the business.
          On the managerial side, it is essential to communicate the business's strategic goals and vision to ensure that young professionals innovate in a way that adds value to the organization. The company will do best to provide channels for all employees to share their ideas and ensure that their ideas are heard by decision-makers. Companies that do so will not only realize product value directly through innovation but also will benefit from increased employee satisfaction and retention. Best Buy for example, which paired six young internet-savvy professionals with three developers from head office, was able to launch a great new collaborative platform within six weeks.
          Companies that recognize and leverage the characteristics of young energy professionals will not only be in a better position to successfully navigate the generational transfer of knowledge and skills, but will also have a competitive advantage in employee recruitment and retention, and they will be primed to innovate through new pathways that better meet the demands of ratepayers and the energy markets of the future.
— With a file from Mahmoud Reza Zare
See also the related editorial posted on LinkedIn: "Is the power industry ready for a wave of awe-inspiring change?"