Long Term Energy Plan (LTEP) becoming a hot topic at APPrO 2016
With little more than a week to go before the Canadian Power Conference, the Long Term Energy Plan (LTEP) has become a major focus of attention for APPrO members and delegates alike. "We are seeing huge uptake from members of APPrO in the LTEP Working Group," said APPrO Executive Director Jake Brooks. "This bodes well for having an active discussion at the APPrO conference on November 15 as well as for producing substantive input to the LTEP process during the coming weeks."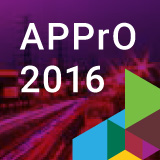 The APPrO 2016 conference features a range of topics of concern to the power generation industry in Ontario, including the impacts of technology change, the province's new cap-and-trade system, project financing, cyber-security, political issues, and of course the LTEP – Ontario's Long Term Energy Plan. Senior figures from the power industry are featured at the conference including Ontario's Minister of Energy, the Hon. Glenn Thibeault, the President and CEO of Hydro-Quebec, Eric Martel, and the CEO of Ontario's Independent Electricity System Operator, Bruce Campbell.
The government of Ontario has just released its discussion guidelines, background papers and consultation schedule on the LTEP. Consultations continue in various forms and locations until the end of November, making the APPrO conference one of the key non-government events to host discussions during the consultation period. Following the consultation process the government plans to gather the input received and use it in the preparation of the actual Long Term Energy Plan which is expected to be released in early to mid-2017.
To become engaged in the consultations, members of the industry may access background information as shown below, or get involved more directly with APPrO's Working Group. An excellent way to take the pulse of the industry in this process, as well as to participate in discussions that could shape industry input to the LTEP, is to be part of the APPrO 2016 conference.
The APPrO 2016 conference session focused on the LTEP begins at 11:00 am on November 15. Further details of the session are available at this location.
Background information on the Long Term Energy Plan: 
Ontario government news release October 13, 2016 on the public consultation process
Long Term Energy Plan (LTEP) on the Ministry of Energy website
Ontario's Energy Future (consultation discussion guide)
The "Ontario Planning Outlook": A series of tables and documents released by the IESO on September 1. These are the central documents on which the LTEP and the upcoming consultation will be based.
Risk a major feature of provincial energy planning, article from IPPSO FACTO, April 2016.
Power Advisory LLC Summary and Commentary on IESO's Ontario Planning Outlook .