Canadian Solar, a home-grown success story
Few people would expect that a world-leading solar energy company would emerge from a cold northern country like Canada. Yet, despite fierce international competition and an extremely competitive  and unsettled market for solar panels, Canadian Solar has risen from virtually zero in 2001 to be a major developer of power projects and the second largest manufacturer of solar panels in the world today.
          How did they achieve such a remarkable feat, and what can this home-grown success story tell us about the path to success for others in the energy sector? A closer look at the history and operation of Canadian Solar reveals a lot about what makes the energy sector an exciting and attractive place to be, and if there's a Canadian formula that others are likely to emulate.
The heights Canadian Solar has reached to date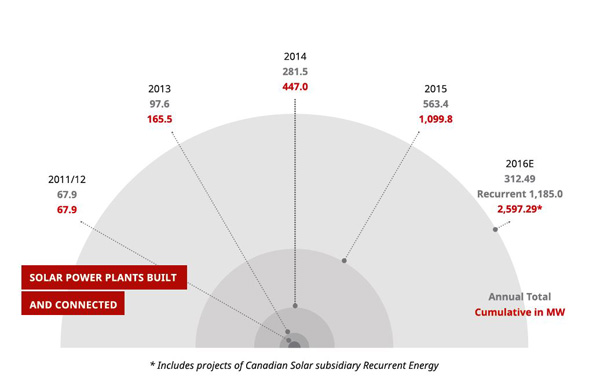 Canadian Solar reported sales of $3.5 billion in 2015, with net income of $172 million, both of which were records for the company. With over 8,900 employees globally and a presence in 20 countries and territories, it shipped a total of 4.7 GW of photovoltaic solar panels in 2015. The company says it is the second largest solar company in the world in terms of MW shipped, revenue, and profits in 2015. Considering that the photovoltaic industry is anticipating major worldwide expansion in the near future, achieving such positions adds up to a pretty promising picture for the company in the years ahead.
          Defying the traditional separation between generation equipment manufacturing and power project development, Canadian Solar seems to have seamlessly integrated the two sides of the industry under one roof. Since its inception, Canadian Solar has shipped a cumulative total of 15 GW of solar modules, and developed, built and connected 1.8 GWp of installed power generation capacity.
          With 13.5 GW in its total project pipeline as of May 2016, the company's largest installations are currently in North America, China, Japan, Brazil and the UK. In the US for example, it has developed and sold 842 MWp and has a "backlog" of 849 MWp in its late-stage pipeline. But market opportunities exist all over the world, and the company is actively monitoring conditions globally from sales offices in more than a dozen countries.
          Manufacturing facilities are currently located in Ontario, China, Vietnam, Indonesia, and Thailand. Describing its key offering as an "Industry Leading Manufacturing Cost Structure," the company is clearly focused on staying ahead of the curve as PV technology changes, finding new ways to reduce costs and increase its energy conversion rate in cells and modules.
          As of June 2016, the company had:
• 4.33 GW worth of module manufacturing facilities worldwide: 500 MW in Canada, 330 MW in SE Asia, the rest in China.
• 2.7 GW of total annual solar cell manufacturing capacity located in China; and
• 400 MW of total annual ingot and wafer manufacturing capacity located in China.
How the company got to this position
Canadian Solar was founded by Dr. Shawn Qu, its Chairman and Chief Executive Officer in 2001. Shawn graduated with a Doctoral degree in Material Science from the University of Toronto in 1995. He became a research scientist at then Ontario Hydro, one of the largest power companies in the world at the time.
          From 1997 to 2001, Dr. Qu worked for a French company, Photowatt International, a wholly owned subsidiary of Automation Tooling Systems Inc based in Ontario.
          Canadian Solar began in 2001 by producing a portable solar charger for automobile batteries, affixed to car windshields. The company soon moved into producing solar systems for residential and commercial installations. Within 10 years, it had grown to be one of the largest manufacturers of solar panels in the world. In the next phase, between 2011 and 2015, the capacity of power plants it had built and connected to the grid grew by more than an order of magnitude from 80 to 1196 MW.
          In 2015 Canadian Solar significantly expanded its market presence by purchasing another industry leader, Recurrent Energy. Recurrent Energy has developed and sold more than 700 MWp of solar PV projects, won more than 1.9 GW of power purchase agreements, and secured more than $7B of project debt and equity financing.
A unique approach combining manufacturing with project development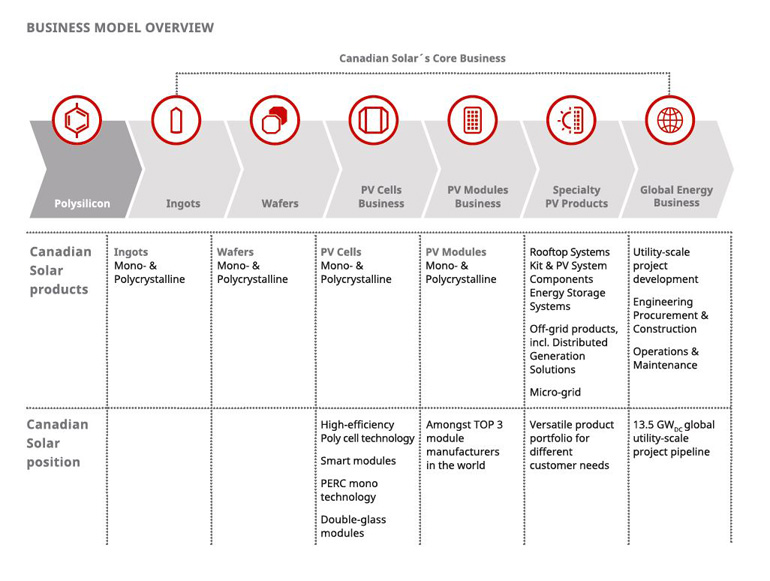 Most companies in the power generation business have traditionally been organized into three very distinct subsectors: Manufacturing of power generation equipment, operating power plants, and developing new power plants. The skills required, the type of risks involved, and the type of capital required, are quite different between the three areas. Conventional wisdom holds that more expensive, relatively risk-tolerant capital is required to develop new power plants, but would be too expensive as the basis for a manufacturing or maintenance operation.
          However, Canadian Solar has shown that a single company can effectively manage to develop, build and operate major power projects, while also manufacturing the core generation equipment. No doubt there are synergies between the operations. Photovoltaic power generation may be different than more conventional forms of bulk power generation because of the relatively fast turnaround between equipment supply and revenue generation with photovoltaics.
          The company has three basic segments, manufacturing, development and operation, which are organized as follows:
          1. Manufacturing: design, develop, and manufacture solar wafers, solar cells and solar power products including
• Solar cells: single crystal and polycrystalline
• A range of standard solar modules, built to general specifications for use in a variety of residential, commercial and industrial solar power generation systems
• Specialty products, such as off-grid and portable solar home systems and solar kits.
          The company supplies modules to its own projects, as well as sourcing cells and modules from other suppliers.
          2. Power project development
• PV solar power project development, primarily in Canada, Japan, the U.S., China, Brazil and the United Kingdom
• EPC services, for projects they themselves own and for projects owned by others; and
• O&M services, likewise.
          3. Power generation, primarily holding solar power projects for the purpose of generating and selling electricity to the local or national grid or other power purchasers.
          308.8 MWp are solar power projects that the company built, and 89.3 MWp are operating solar power projects that were acquired from third parties.
          Energy development and electricity generation segments combined represented 28.2% of net revenues in 2015, compared to 41.0% in 2014 and 19.6% in 2013. In the future, the company intends to grow the energy development segment by expanding its project pipeline and the number of customers of EPC services and O&M services. It also plans to grow the electricity generation segment by holding more projects to generate revenue from the sales of electricity.
A sharp eye on the future
Yan Zhuang, the Senior VP for Canadian Solar, points out that the market fundamentals for solar are solid:
a) Electricity consumption is expected to continue to grow at least in line with GDP
b) Large parts of the aging fleet of coal and nuclear assets are expected to be decommissioned
c) Environmental compliance requirements are expected to force the cost of conventional sources of electricity higher
d) The cost of solar energy is expected to continue to decline as technology improves and economies of scale from widespread adoption prevail.
          However, Canadian Solar recognizes that technology and markets are changing quickly. "It is clear that the ideas that make our company a success today won't cut it tomorrow," Mr. Zhuang says. "The only way to stay ahead of the game is to keep coming up with better, more sustainable innovations than competitors."
          With this in mind, Canadian Solar operates three state-of-the-art PV research centers – one in Canada and two in China – for cells, modules and systems. At these facilities its team of over 200 scientists, engineers and technicians conduct research focused on continuous improvement in the company's solar cell and solar module technologies. With R&D investments totaling well over 600 million USD to date, over 700 local and global patents, and strategic R&D partnerships with NREL, ECN and Fuji Film, "Canadian Solar is a globally recognized innovator in the solar industry, to the point where our rate of innovation has become an expected feature in the market," Mr. Zhuang says. The power generation efficiency in all three of its core products have increased over time, and are projected to continue doing so as shown in the cell efficiency roadmap. (See cell efficiency roadmap chart.)
At Canadian Solar, research and development activities are generally focused on the following areas:
• Continuously improving solar cell conversion efficiency and developing new structures and technologies for higher efficiencies;
• Developing modules with improved design and assembly methods to have higher power output;
• Improving manufacturing yield and reliability of solar modules and reducing manufacturing costs;
• Developing smart modules integrated with optimizer or micro-inverters;
• Testing, data tracing and analysis for module performance and reliability;
• Designing and developing customized solar modules and products to meet customer requirements; and
• Developing new methods and equipment for analysis and quality control of incoming materials (such as polysilicon, wafers, cells and other module components).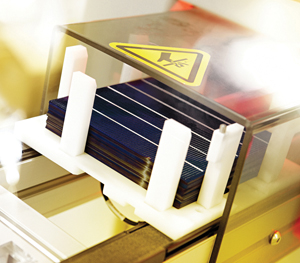 Canadian Solar offers a strong performance warranty that guarantees that the actual power output of a polycrystalline module will be no less than 97.5% of the labeled power output during its first year of operation, and will decline by no more than 0.7% annually. In this way customers are assured that by the end of year 25 the actual power output will be no less than 80.7% of the module's labeled power output.
Does a Canadian base of operation help with maintaining a global strategy?
No doubt many observers in the energy sector, particularly investment analysts, are looking closely at Canadian Solar to see if its model can be applied more generally. Is the strategy of basing manufacturing at multiple locations in Asia, while maintaining a head office in Canada, likely to be attractive in the long term? Quite likely it allows the company to blend the best from the East and the West, offering a product that is relatively low in cost, while also benefiting from the reputation for political stability and legal accountability that goes with having corporate management based in Canada. Whether rightly or wrongly, fairly or unfairly, Canada seems to enjoy a reputation as a relatively trustworthy honest broker on the international stage, and is perceived to be amongst the most dependable and predictable jurisdictions in the world for running a business.
          The strategy of raising funds globally to build manufacturing capacity in China, from a Canadian base, may not be widely used at the moment. However it is likely quite economic, capable of retaining top level expertise, and it seems to be satisfactory to the respective governments.
          While the general public may not have expected leadership in the global solar panel market to come from northern countries with low solar radiation levels, the industry seems to be entirely comfortable with leadership emerging from such regions. Considering Canadian Solar's recent sales performance, the broader public is likely coming along as well. All in all, good portents for countries like Canada and Germany.
          If this kind of success continues, it could be emulated by all sorts of companies seeking to pair low cost manufacturing with the access to knowledge workers and reputational benefits of Canadian-based management.
The future looks bright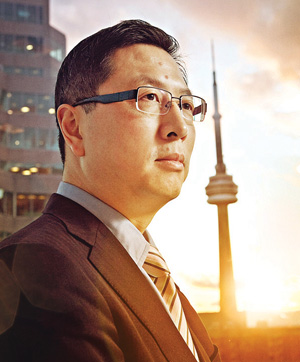 "Solar energy is going to play a very important role in the transformation of the Canadian economy," Qu told a reporter in 2010.
          The growth of utility scale photovoltaic solar power generation has probably been the single most important change in the global energy sector of the last decade. There are few indications that growth will slow down. On the contrary, as the cost of power from photovoltaic panels drops below the average cost of power from existing supply in more and more locations, something that experts view as a very real possibility, the growth of PV will almost certainly continue if not accelerate. Many industry experts are advising businesses in the power sector to prepare for potential widespread disruption to existing power systems as solar energy is adopted more widely at both the utility level and the community level.
          A report by energy finance analyst Julien Dumoulin-Smith published on March 30, reviewed Canadian Solar's plans for launching their "industry leading project development platform." Noting that, "building the platform consisted of acquiring Recurrent Energy and a commitment to investing $2 billion by the end of 2016 to complete 1.0 GWdc in projects," the analysts cited concerns about potential imbalances between supply and demand. While some have projected shortages of solar panels later this year, Dumoulin-Smith said, "The market has been concerned about oversupply of modules for the later-half of 2016. However, the company addressed the issue by explaining they are not focused on the module capacity; rather they are focused on the upgrade of the technology and expanding their cell and wafer internal capacity. They are aiming to increase the level of internal vertical integration to expand their margin structure. The wider question on margins remains when trends will ameliorate – and how risk of rising inventory could drive a delay between the timing of expansion capacity growth and pressure on industry margins."
          Dr. Shawn Qu outlined certain financing considerations in an earnings conference call on May 11, saying "We are actively considering more options to monetize our solar power plant assets. These options include for example outright sales of solar power plants or asset-backed securitization and potentially our public or private YieldCo depending on the market conditions. We believe that our solar power plant assets in low-risk OECD countries are valuable and very liquid. Our goal is to maximize the long-term return to our shareholders." The yieldco model is commonly used in the power generation sector to separate relatively volatile activities (e.g. development, R&D and construction) from the more stable and less volatile cash flows of operating assets, as a means of reducing the cost of capital.
          After the company announced a $470 million deal to sell a set of its generation assets in Ontario to TransCanada Corp., the market value of its shares enjoyed a significant boost.
          Canaccord Genuity published a research report on Canadian Solar in April, noting, "Overall, we believe that positive sentiment has returned to the solar group. Our optimism on the space continues and we remain buyers of the top names in the group, including Canadian Solar."
          Dr. Shawn Qu, Chairman and Chief Executive Officer has been part of several Team Canada international trade missions. He spoke on the panel on "The Face of the 'New Economy': Lessons from Low-Carbon Leaders and Ecopreneurs" June 8 to discuss the rise of the sustainable business agenda, with a focus on the low-carbon dimension.
          Clearly the prospects for continued success are good, considering the expanding market for solar photovoltaics and Canadian Solar's strong position within the industry. "How internationally-minded Canadians brought solar energy to the world," might be a story people tell their grandchildren.
          — By Jake Brooks with files from Steve Kishewitsch.
See also "Canadian Solar to head new Global Solar Council," IPPSO FACTO June 2016
• Canadian Solar building 47MW solar in Japan
• Canadian solar opens 8.6 MW of PV in Japan
• Solar simmering in Ontario
• Canadian Solar's Microgrid Testing Centre to help with smart grid
• Canadian Solar begins Canada's largest solar farm
• Canadian Solar modules pass most stringent salt test
• Canadian Solar offers new 1500 volt module
• Canadian Solar installing solar for Ottawa Hydro
• Canadian Solar's first green solar private placement.
Profiles of Canadian Solar Projects
A sample of projects by Canadian Solar, showing the range of applications for which Canadian Solar's modules provide power around the world. There are many more on the company's website.
          Wastewater treatment, New Jersey
          Sewage management is a tough, dirty job. But someone's got to do it. So why not get a little help from the sun? This was the approach taken by the Camden County Municipal Utility Authority in Camden, New Jersey.
           "The amount of sewage produced by any sizeable city is simply enormous," said Thomas Körner, Vice President Global Sales of Canadian Solar. "And it goes without saying that when one is effectively running a clean-up operation of this magnitude one wants to use sources of energy that are as clean as possible," he added.
          "It doesn't make sense to clean up in one area and soil another in the process. This makes clean solar the ideal energy source for waste treatment." Canadian Solar Inc. recently delivered over 8 MW of solar photovoltaic modules to the U.S. solar power installer and distributor groSolar of White River Junction in Vermont U.S. The modules were specifically purchased for three utility and commercial PV projects.
          Among the three new PV systems is a 1.8 MW solar project at the Camden County Municipal Utility Authority's wastewater treatment plant (CCMUA). The plant makes use of Canadian Solar's monocrystalline PV modules. The system was designed to span open wastewater treatment tanks, so no extra space was required for their installation. More than being space-efficient and environmentally friendly, the system results in substantial cost savings on energy for the municipality.
          Thomas Körner of Canadian Solar USA said, "Canadian Solar is committed to supporting its valued partners and customers. We were pleased to be selected as module provider of choice by groSolar's experienced team as we continue to expand in the U.S. market."
          It is estimated that people in first-world countries produce about 75 litres of waste water per person per day. When one multiplies this number by the hundreds of millions of people who live in North America and Europe, the potential for the application of solar solutions in this market is clearly vast.
          Supporting local solar installers, Switzerland
          Switzerland's Biohof Schmid produces organic seeds, fruits as well as organic meat products – powered by solar energy since 2009. Shortly after installing their own solar system, the first neighbors asked the team if they could help them realize their own projects: Canadian Solar EMEA is currently running a project dedicated to support solar installers focused on residential and small commercial projects. Already launched in Germany, Austria and Switzerland, we are helping installers efficiently order solar modules and components online. This online solution now is the basis for generating additional business for partners like Heinz Schmid:
          "To set up PV installations as a side business we needed a reliable and flexible partner with the ability to serve regions like Luzern. The Canadian Solar Onlineshop offers what we need. Most of our installations are planned and organized after business hours, ordering all components online enables our installations. We are happy to have a strong partner who supports us not only with products but services as well. Together we have already realized many projects in a very smooth and efficient way. Thanks to Canadian Solar we can now offer our customers solar installation services right next to our blueberry sorbet."
          Utility-scale Wuhu Sanshan Solar Project, China
          Xinyi Solar Energy invested 148 million USD into the construction of Wuhu Sanshan 100 MW solar project.
          This 100 MW solar project is located in Eqiao town, Sanshan area, with a total land area of about 2500 acres. It was realized with a total investment amount of about 148 million USD to be included in the Anhui Province "861" project library, as one of the key construction projects in Anhui Province. Canadian Solar supplied 10 MW new Dymond CS6P-P-PG modules for the 100 MW project.
          Canadian Solar's Dymond module is a double-glass PID-free module with triple anti-PID technologies. By replacing backsheet with heat strengthened glass, it has less power degradation and is more reliable. The Dymond module can be widely used in seaside, agriculture farm and places of high temperature and high humidity.
          The project is expected to produce up to 110 million kWh, saving 32,000 tons of standard coal annually. The solar project is very important to optimize the local energy structures and establish renewable energy models in the region. The project was launched April 2014 and connected to the grid in October 2014, two months earlier than the planned date.
          "The project covers an area of about 2300 acres, and is expected to produce 100 million kWp, saving 32,000 tons of standard coal annually. The project has been officially connected to the grid in November. It has profound significance for optimizing energy structure in the region," said Xinyi Solar Energy (Anhui) project director Lihua Ding.
          A community solar park in Hungary
The 500 kW solar park in Debrecen, Hungary was completed and connected to the grid in March 2016.
          The installation of 2,100 Canadian Solar CS6P-250P modules is generating electricity for a community solar park. The system produces an annual output of 569 MWh and saves 496,000 tons of environmentally harmful CO2 emissions per year.
          Europe's largest indoor ski hall
The owners of the alpincenter Hamburg-Wittenburg were faced the challenge of significantly reducing energy costs for operating the building – which features 30,000 m² of ski slopes. They solved the problem by installing a rooftop solar system, which allows the facility to operate 365 days a year, using only the self-generated power. And it effectively makes the operators independent from both the public grid and EEG subsidies.
          The PV rooftop installation on the alpincenter, Europe's largest indoor skiing hall, features an impressive 3.6 MW array of Canadian Solar Modules. Operator of the winter sports center, the Dutch Van der Valk Group, reaps a double benefit: the self-produced solar power significantly offsets energy costs and simultaneously reduces the power needed to run the cooling system thanks to the shadowing effect of the installation.
          "For a rooftop system of this scale, efficiency and quality of the modules are paramount. Particularly for the alpincenter Hamburg-Wittenburg, which wanted to completely cover their energy demand by the self-produced power, performance losses are not tolerable," said Dr. Christian Metje of Dr. Metje Consulting, the Hamburg-based company that designed and implemented the project.
          The shadow the PV system produces on the roof results in a 50 percent lower surface temperature. This drastically reduces the load on the cooling technology, which keeps the indoor temperature at -1 degree Celsius throughout the year, translating into lower energy consumption. And the Canadian Solar CS6P-P modules used are well suited for commercial rooftop installations. They are among the top-ranked modules in the PV USA (PTC) ratings, which are quickly becoming universally accepted standards for measuring real-world module energy production and performance.
Research
Canadian Solar operates three state-of-the-art PV research centers for cells, modules and systems in Canada and China. Combined, more than 400 scientists, engineers and technicians conduct research to continuously improve its solar cell and solar module technologies. With R&D investments of over 600 million USD, more than 500 global patents and strategic R&D partnerships with NREL, ECN and Fuji Film, Canadian Solar is a globally recognized innovator in the solar industry.
Socially progressive
Canadian Solar is a multinational corporation that works across diverse cultures on a global scale. As such, we promote a socially progressive and responsible approach to Human Resources, production quality, management standards, supply chain management, marketing, customer services and community involvement. In particular, the company supports sports like ice hockey, soccer and basketball with sponsorships, donations and, not least, by attending the games of our favorite teams.
Upcoming Events
Intersolar South America, Brazil, Sao Paulo          23.08.2016
Renewable Energy India Expo                            07.09.2016
Solar Power International, Las Vegas                  12.09.2016
Solar Power Philippines                                     22.09.2016
All Energy 2016, Melbourne, Australia,                 04.10.2016
Green EXPO 2016, Mexico City, Mexico,               26.10.2016