Rural Alberta getting Canada's first rural smart grid
Federal Natural Resources Minister Amarjeet Sohi announced a $2.2-million investment August 30 in Alberta's rural distribution company EQUS for a smart grid project.
          Among the smart technologies being implemented, eight micro solar photovoltaic generators and a 70 kilowatt solar photovoltaic system with battery storage will help power two electric vehicle charging stations in Medicine Hat. The project will produce clean, renewable power and increase the use of electric vehicles, which will reduce greenhouse gas emissions while improving grid reliability. A statement says it will deliver "better services to businesses, farms and residential, commercial and industrial sites in ultra-rural areas."
          Once completed, this project will be the first member-owned rural smart grid in Canada.
          Funding for the project comes from Natural Resources Canada's Smart Grid program, part of Canada's more than $180-billion Investing in Canada infrastructure plan, which focuses on public transit projects, green infrastructure, social infrastructure, trade and transportation routes and Canada's rural and northern communities.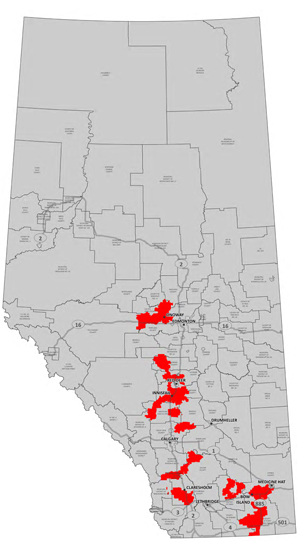 Equs service area map Serving nearly 12,000 members, EQUS is the largest member-owned utility in Canada. EQUS provides electrical distribution services to commercial and industrial developments, oil and gas operations, telecommunication towers, production facilities and farms throughout 26 Alberta municipal districts and counties.
          The province of Alberta, through Alberta Innovates, will contribute an additional $500,000 to the project.