Greengate plans to build Canada's largest solar farm
Calgary: Greengate Power Corporation announced having received approval from the Alberta Utilities Commission (AUC) August 27 to construct and operate its Travers Solar project, pursuant to the Alberta Hydro and Electric Act. Greengate expects to begin construction of the project in 2020, with full commercial operations targeted for 2021.
          With an estimated total investment of approximately $500 million, Travers Solar is expected to be Canada's largest operating solar energy project, with a total generating capacity of 400 MWac. The project, using 1.5 million solar panels, is located in Vulcan County, Alberta and is anticipated to operate for more than 35 years.
          "We are very pleased to have received approval for what we expect will be Canada's largest solar energy project and one of the largest in the world," said Dan Balaban, President and CEO of Greengate. "This continues our successful track record, having already developed some of the largest renewable energy projects in the country. We anticipate that Travers Solar will bring significant investment, employment and clean renewable energy to Alberta while strengthening the province's position as a global energy and environmental leader."
          Mr. Balaban will be a keynote speaker at APPrO's annual conference in November.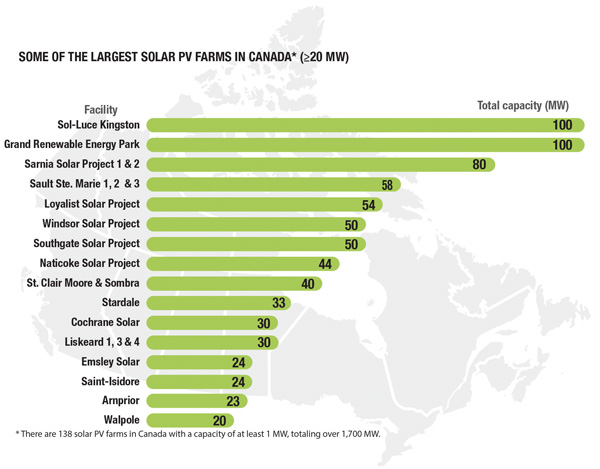 CBC says that currently, the largest solar farms in Canada are the Sol-Luce Kingston project and Grand Renewable Energy Park, both in Ontario. Those each have a capacity of 100 megawatts, according to Natural Resources Canada.