Transformative pathways proposed for refocusing technology
Because views on climate action can be divergent, a new approach is needed to encourage more coordinated and consistent action. This is the view of a team of technology experts who have set out to devise solutions, many of which entail significant business opportunities for the electricity sector.
          A sophisticated system of incubators and funders is well in place in Ontario and Canada to foster new and promising technologies in the early stages of development – innovations that bid to offer better, cleaner, more efficient ways of providing goods and services. A network of institutions, including Sustainable Development Technologies Canada and the MaRS Discovery District, are prepared to assist in making the connections. Venture funding is available to help even small startups achieve broad commercialization (see, for example, "Take your idea to MaRS," IPPSO FACTO, April 2010).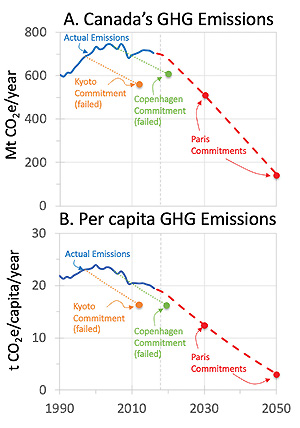 Canada's greenhouse gas emissions have exceeded, or are on track to exceed, every target Canadian governments have set: under the Kyoto Protocol, set in 1997; the Copenhagen Agreement, in 2009, and currently the Paris commitment, which came into force in 2016. However, progress has not been rapid enough to reduce the risk of serious climate change, many feel. It may be that the whole system needs to be reconsidered using a new frame of reference. A narrow focus on technology may be too slow and too local to counter the enormous momentum in the world's existing production systems.
          A new organization was launched on August 26 to address such issues at a systemic level, specifically in relation to helping Canada's economy as a whole decarbonize.
          Dan Wicklum, President and CEO of the Transition Accelerator, puts it this way:
          "Developing good technology is entirely insufficient for change. We need to focus on finding solutions to challenges, not technology development. And where technology is part of a solution, without viable pathways to deployment figured out, ones that are co-developed and bought into by key stakeholders, technology just does not get commercialized and sectoral and societal behaviours seldom change. Transitions are as much about people and behaviour as they are about technology and economics.
          "We focus on systems, not technologies – we have moved away from the approach where 'technologies look for a problem to solve,' to focus on solutions that find and deploy the right technology, business model, policy and/or social innovations to accelerate the transition to a low carbon economy."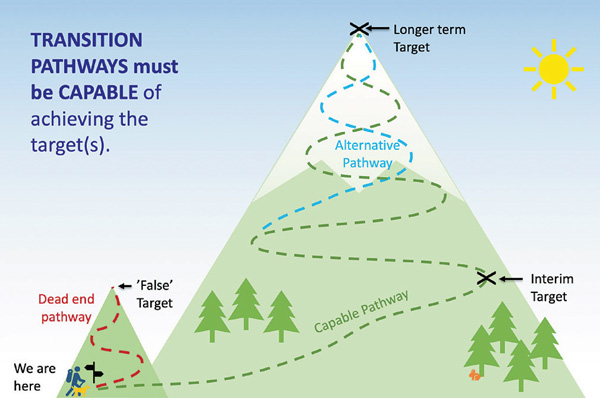 The Transition Accelerator is designed to identify flexible pathways to desired goals, while avoiding the kinds of dead end that can result from narrowly-defined short-term thinking. As the organization's formative discussion paper puts it, even though polls find that Canadians take the climate threat seriously and want their governments to act, political argument and media coverage are dominated by two issues: pipelines and carbon pricing. Instead, a transition pathways approach can help alleviate policy paralysis, re-frame public discussion of the climate issue, and allow everyone to work together on a way forward.
          The development of "pathways to system transformation," through extensive collaboration with multiple forms of expertise, is the way the Transition Accelerator plans to work. Pathways are typically organized in a four-stage process:
1. Understand the system that is in need of transformative change, including its strengths and weaknesses, and the technology, business model, and social innovations that are poised to disrupt the existing system by addressing one or more of its shortcomings.
2. Co-develop transformative visions and pathways in concert with key stakeholders and innovators drawn from industry, government, academia, environmental organizations and other societal groups.
3. Analyze and model the candidate pathways from Stage 2 to assess costs, benefits, trade-offs, public acceptability, barriers and bottlenecks. With these insights, the researchers then re-engage the stakeholders to revise the vision and pathways so they are more credible, compelling and capable of achieving societal objectives that include GHG mitigation. Stages 2 and 3 are carried out in an iterative way to derive towards being most credible, compelling and capable.
4. Advance the most credible, compelling and capable transition pathways by spinning off consortia (typically industry-led) to pilot, demonstrate and commercialize the pathway visions.
Differences between traditional approaches and Pathway approaches. The primary difference between standard technology innovation and a transformative pathway is that a pathway will be able to leverage multiple types of technology innovation, including enabling technologies up and down the supply chain. It can open up development opportunities across an entire system, including markets, technologies and patterns of demand on the consumer side. It can also enable multiple options in parallel each of which would be suited to particular regions. Different regions, with their differing economic structures, will be able to adapt in distinct ways, as appropriate.
          As an example of how a pathway might be more effective than technical innovation alone, the researchers point to how mobility as a service combined with technology that leverages the lower cost per joule of hydrogen compared to diesel could fundamentally reshape transportation more than simple improvements in vehicle technology. The team believes their project will encourage creative boundary-crossing ideas and produce further examples of business opportunities arising from new pathway approaches.
In an early application of transition pathway methodology, CESAR (Canadian Energy Systems Analysis Research) has been analyzing how to transform heavy freight transport in western Canada. Hydrogen fuel-cell electric vehicles have emerged as a potential solution, including an opportunity for Alberta's energy sector to become North America's leading source of hydrogen as a zero-emission transportation fuel – thereby illustrating one of the principles of the transformative approach, in finding associated benefits to the prime target of GHG reduction.
          The Accelerator team anticipates a major role for electric power in virtually all transitional options. Renewable sourced electricity is projected to be central to hydrogen production in Alberta. The Accelerator project stresses that it is interested in helping others to define and build out credible, compelling transition pathways to a hydrogen economy on a region by region basis. In Ontario, nuclear energy could play a role in generating the hydrogen either through electrolysis or possibly using more direct nuclear powered thermal technologies such as those described by the IAEA in its publication "Hydrogen Production Using Nuclear Energy". In Quebec, the large hydro sector would play the major role in generating hydrogen, as they already are.
          The Accelerator has two projects currently under way:
• CESAR's pathway to the hydrogen economy, anchored by hydrogen as fuel for heavy freight transport. The AZETEC project will put two hydrogen-powered long-haul freight trucks on the road between Edmonton and Calgary; those trucks are being engineered now. The project was conceptualized in CESAR and is now led by a consortium of partners. Truck manufacturing is expected to be completed June 2021, and testing to occur July 2021 to Dec 2022.
• The decarbonization of personal mobility and our cities through the judicious implementation of autonomous, connected, shared and electric vehicle technologies. The Mobility as a Service (MaaS) pathway is currently in the scoping stage.
          Dan Wicklum comments that those two pathways were grandfathered into the Accelerator by principals responsible for conceiving and launching the Accelerator. "However, we are working with appropriate federal and provincial government departments and some industry associations to identify other potential pathways. We have a decision support tool to help focus effort. To give you an idea of the criteria that go into the decision making process we look for pathways that show:
• Significant potential to improve sector economics and realize social gains
• Critical mass of anchor collaborators strongly motivated to drive transformative change
• Large GHG emission reduction potential – 100MT range
• Clear disruption already happening, dynamic sector
• Opportunity to prompt cascading change across sectors.
          "Having said this, we are very early in the Accelerator's pathway scoping and prioritization process and we will undoubtedly end up identifying interesting pathways in different ways which could include eventually putting out calls for proposals. We haven't set a limit on the number of pathways that would be underway at any one time. The Accelerator's business model is flexible and adaptable. We see the Accelerator taking the lead on the development of some pathways, and simply providing methodological and strategic support in other instances where others are better positioned to make progress."
          The Transition Accelerator (transitionaccelerator.ca) currently lists four supporters on its website, and the AZETEC consortium has more. Mr. Wicklum expects the support base to increase "markedly" as new pathways are developed and associated consortia are launched.
Related developments
With the Accelerator having been announced only earlier this summer, some further developments have been announced in the last couple of months in an apparent echo – presumably coincidental – of its methodology.
          On August 30 federal Natural Resources Minister Amarjeet Sohi announced a $500,000 investment for Polytechnique Montréal to support a network of institutions conducting electricity modelling and analysis to inform Canada's clean energy transition.
          The announcement was headed by the statement that "[t]he Government of Canada understands that building a low-carbon economy in Canada will require a transformation of our complex energy systems, and that using more electrical power, or electrification, is a big part of the solution."
          It continues, "The funding will go toward enhanced engagement, coordination and information-sharing among the researchers, modellers and stakeholders with a view to developing a long-term work plan to support Canada's clean energy transition. Their work will inform governments and utilities as they implement strategies and make key investments in clean electricity. The project will help identify renewable energy projects and policies that will generate economic growth, regional development and environmental protection, while optimizing energy efficiency and reducing greenhouse gas emissions."
          Two weeks later, The Energy Mix reported that the federal government had issued a call for consulting proposals to study how widespread electrification can "reduce or eliminate" fossil fuel use across the economy.
          The related federal contracting documents say Natural Resources Canada's Office of Research and Development is looking for "strategic guidance on the need to pursue both electric and non-electric energy research and development to enable deep decarbonization scenarios." Up to $300,000 was being offered for the job.