Group calls for Canadian hydrogen leadership
Key opportunities for deployment of hydrogen based energy systems are outlined in a new report summarizing findings from a consultative study of more than 35 private sector companies on the potential for the sustainable development of a hydrogen economy in Canada. The report was produced by H2GO Canada, a new not-for-profit company formed to bring together the public and private sectors to facilitate the strategic deployment of hydrogen systems.
          Made possible with research funding by Natural Resources Canada, the 29-page report (Developing a sustainable approach to hydrogen deployment in Canada) is available for public download at www.H2GOCanada.com. The H2GO Canada report synthesizes the collective voice of industry and identifies the initial opportunities and challenges facing hydrogen systems to assist in the decarbonization of the heat, power and mobility sectors "while supporting the country's economic growth and climate change mitigation objectives."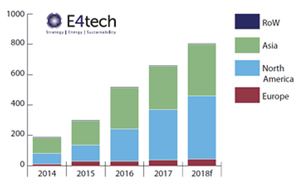 Fuel cell capacity, MW, worldwide 2014 – 18 A graph distributed by the group illustrates recent worldwide growth of fuel cell installations, a leading type of power-generating hydrogen technology.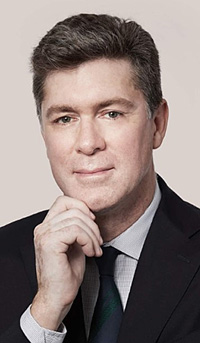 Dan Brock "The reality is Canadian companies are working internationally with governments and private sector companies to deploy hydrogen systems in a multitude of applications and all of that technology and expertise could be used here, in Canada," said Dan Brock, Chair of H2GO Canada. "Our study explains that hydrogen technology is not only mature, proven and capable but has a key role to play to help Canada meet its decarbonization objectives and should be done with a net gain in employment. Canadians have an opportunity to step out from behind the scenes and show the world why the country is a leader in hydrogen."