Net zero community planned for Colorado
An article in the Rocky Mountain Institute's online magazine May 28 describes "An Affordable, Net-Zero, All-Electric Community in the Colorado Rockies," comprising 27 homes in the Basalt Vista Affordable Housing Community.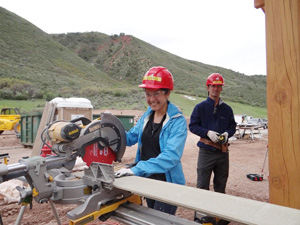 A number of partners donated and subsidized the cost of several elements in the construction of the neighbourhood under the auspices of Habitat for Humanity. A town council member requested that they forgo installing a gas line and go all-electric, and even make the development net zero. A local nonprofit, the Community Office for Resource Efficiency (CORE), got involved to help with the net-zero energy aspect.
          While the local Habitat chapter has been building efficient homes and installing solar photovoltaics on them for some time, author Laurie Stone writes, "they had never tackled an entirely net-zero housing development."
          Not bringing in gas infrastructure saved the development $30,000 plus additional costs to bring gas to each individual home. "New technologies such as heat pumps and induction stoves are extremely efficient. And with the price of renewable energy falling, we can affordably run our appliances on clean energy."
          The two- to four-bedroom units will each have a solar photovoltaic system on the roof averaging 11 kW. They will be equipped with heat pumps both for hot water and space heating and cooling, induction stoves that use magnetic waves, electric vehicle charging stations, LED lighting, and EnergyStar-rated appliances. The local utility, Holy Cross Energy (HCE), a cooperative utility with more than 46,000 members, is using the housing development as a learning lab, with the aim to show how adjusting energy levels provided by solar photovoltaics and batteries can both save money for customers and benefit the grid. HCE is installing smart controllers and battery banks in four of the homes for a four-month test period, with possible extension to a 10-month period. The controllers will allow HCE to manage members' loads or pull energy from the battery or neighborhood solar system.
          The energy-saving mode will use algorithms based on the customer's habits. The customer mode will work to reduce the customer's bill. The peak load management mode will actually be able to pull energy into the grid from the batteries or directly from the solar system when the grid needs it and the home doesn't. All of the data from the four homes over the test period will be utilized by the National Renewable Energy Laboratory to validate its efficiency models for the units to see if this model can be replicated in communities around the country.
          Thanks to a lot of community support, the article says, the homes will cost less than half the price of an average home in the area. They are slated for teachers and other low-income families. And not only will the families have an affordable mortgage, they will also have little to no utility costs.
          Original story here.