US storage market setting records
The United States non-residential storage market had its strongest quarter ever in Q1 2019, according to the new U.S. Energy Storage Monitor, released June 4 from Wood Mackenzie Power & Renewables and the Energy Storage Association (ESA). Q1 2019 was also the second strongest quarter on record for the U.S. residential storage segment.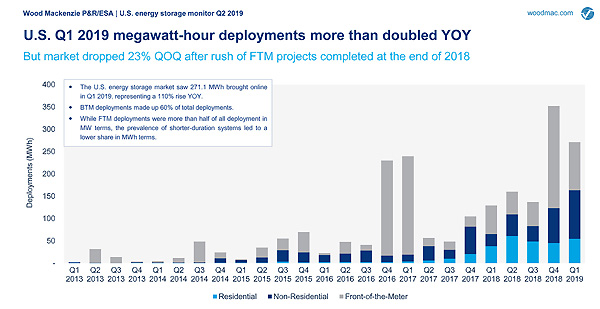 Overall, Q1 2019 was the largest ever single quarter for U.S. energy storage deployments in megawatt terms, an increase of 232 percent year-over-year. The quarter was the second largest ever in megawatt-hour terms. The U.S. saw 148.8 megawatts of energy storage deployed in Q1 2019, breaking the previous megawatt record set in Q4 2018 by six percent.
          Behind-the-meter (BTM) deployments, which include residential, commercial and industrial storage, constituted 46 percent of Q1 2019 deployments in megawatt terms in Q1, growing 36 percent quarter-over-quarter and 138 percent year-over-year. Front-of-the-meter (FTM) storage also grew significantly year-over-year. Wood Mackenzie notes that there is now five times as much FTM storage in the U.S. than there was at the end of Q1 2018.
          An increasing proportion of new FTM and BTM solar projects are being paired with storage, which is helping to drive the market forward. Although some supply constraints limited the storage market in 2018, ongoing resolution of those constraints is contributing to this year's market uptick.
          Wood Mackenzie expects U.S. energy storage deployments in 2019 will be double those seen in 2018. Multiple large FTM projects will come online in 2020, leading to a tripling of the market from 2019 to 2020.