Bruce Power shares its vision
In an innovative communications initiative, Bruce Power is inviting Ontarians to consider the pivotal choices we can make now, and their impacts on our collective future.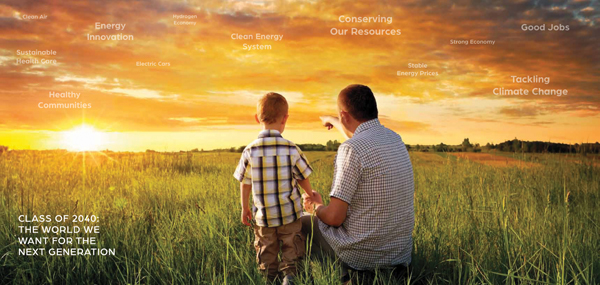 At the same time it's posing some challenging questions about how energy needs are to be met 20, 30 and 40 years from now. "It's essential we communicate a clear vision of how Bruce Power is contributing to the Ontario we aspire to build over the long term," said Duncan Hawthorne, Bruce Power President and CEO. "We can play a positive role to improve the lives of Ontarians, because we keep electricity rates affordable, while protecting the air we breathe. That's what our vision is all about."
Using easily accessible online documents that convey a sense of building a vision for the future, Bruce Power is treading new territory in terms of starting conversations about its long term energy vision with the public. No doubt the audience is similar to those who will be engaged in studying the province's Long Term Energy Plan, but Bruce Power is encouraging people to think even longer term – even beyond the 2040 timeframe against which most of its projections are set.
Bruce begins its messaging by proposing a set of long term objectives. It says, "We are also a province that is looking to the future. We want to protect the air we breathe for our families, and create a more innovative and prosperous province." It talks about how fortunate Ontarians are, and the value of having "A balanced, stable, clean supply mix." It stresses however, that nuclear is an essential part of the mix: "Ontario has developed a supply mix that consists of various sources including natural gas and renewables – but for these supply sources to be a part of our supply mix for price stability and reliability, they need to work alongside Bruce Power nuclear."
A key part of Ontario's quality of life, Bruce Power notes, is "A strong economy through jobs, investment and affordable electricity." But this will not continue unless the province continues to provide for energy supply. "The world we live in will be a different place in 2040, with many of the challenges we face today becoming more profound and significantly impacting our way of life. … Clean air considerations will be a massive challenge for the world to confront."
The literature makes the case that nuclear power is likely to be an important part of maintaining both clean air and the quality of life for future generations: "By 2040, nearly 100 new nuclear reactors will be in service to meet growing demand, mostly through an extensive new build program in the Asia Pacific region. Even with this massive build program, nuclear power's share of global electricity supply is expected to continue to provide what it does today – about 13 per cent. During this period, the global nuclear industry will shift from operating a fleet of Generation 2 facilities to Generation 3 facilities, creating a significant global basis of experience for jurisdictions like Ontario to draw from and engage with."
Although the proportion of electricity generated by nuclear energy may stay much the same as it is today, the importance of nuclear is likely to grow, economic factors will change, and the technology will be different. "[Carbon pricing] will be a game changer for the clean electricity sector, with emissions-free sources becoming even more cost competitive. Jurisdictions, such as Ontario, that have invested in clean energy infrastructure will have a strategic advantage – both on clean air and energy costs. … Ontario is well positioned to be a global centre of excellence for a clean energy economy, thriving resource sector, internationally recognized banking sector, advanced manufacturing and a key source of healthy food for a growing world. With growth in power consumption expected the need for the output of the Bruce station will only grow."
Stressing the economic benefits of its facility, Bruce says, "According to a report released by the Canadian Manufacturers and Exporters, the economic benefits from the Bruce Power site are significant. Over the past decade, we have been the largest private investor in Ontario's electricity infrastructure – all of the funds invested into the site's units are private, while the assets remain owned by the province – and we are one of Canada's largest public-private partnerships." The Bruce site has some strong advantages for continuation as a location for nuclear energy: "By 2040, Bruce Power will be one of the most optimal nuclear sites in the world, as we have already begun implementing our sustainability vision to be carbon neutral – from electric vehicles to energy efficient buildings, we will be a leader in clean energy infrastructure. By exploring new technologies such as hydrogen production and energy storage, we can position the Bruce Power site to better serve the long-term clean energy needs of the province."
Continuing with its visionary messaging, Bruce tries to combine realism with a sense of possibilities: "By 2040, the focus on nuclear in Ontario will shift to the next generation of nuclear energy with the refurbishment programs complete. With a global basis to build on, new nuclear projects will be a key element to Ontario's energy mix in the second half of the 21st century. Since the world's nuclear fleet largely came into service between the 1960s and '90s, the life of existing facilities will have been extended and optimized and the focus will shift to the next generation of nuclear. Given its remote rural location, renewed infrastructure, strong community support and proven environmental capability to be an ideal location for new build, the Bruce Power site will be uniquely suited to meet Ontario's long-term needs." The literature concludes with inspiring words: "Bruce Power is looking generations ahead by securing tomorrow, today. Ontario will become a more prosperous province with cleaner air, and Bruce Power will meet the challenge to power our lives in 2040."
Bruce Power is likely to receive compliments for encouraging this kind of forward thinking discussion. How it will play out in the upcoming conversations about Ontario's Long Term Energy Plan remains of course an open question.
For more information see Bruce Power's website or Google "Bruce Power in 2040."