Morgan Solar honoured for cost-effective PV design
Toronto: Toronto-based solar energy start-up Morgan Solar Inc. was awarded the inaugural Canadian Energy Innovation Award (CEIA) on November 16 for its pioneering collaboration with the University of Ottawa SUNLab. The award was presented jointly by Ontario Centres of Excellence (OCE), Borden Ladner Gervais LLP (BLG) and APPrO. A panel of industry experts from the Ontario electricity sector selected Morgan Solar in part because the solar energy technology it is developing holds the promise of being broadly applied across Ontario and around the world.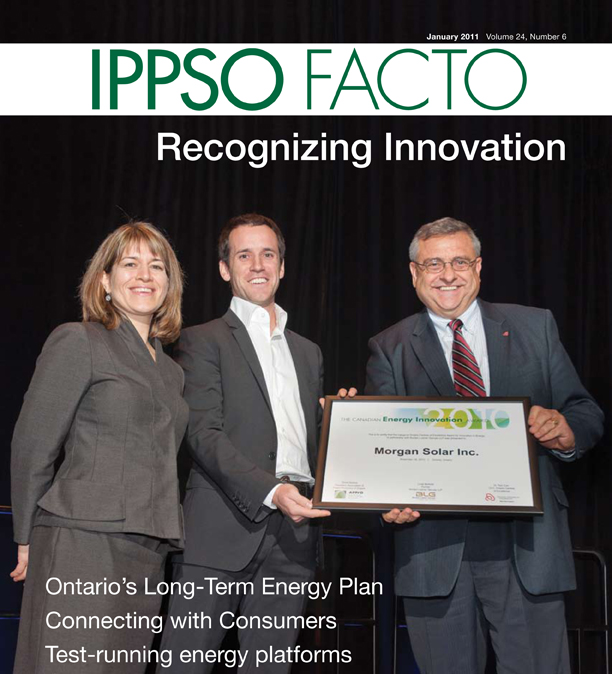 Morgan Solar was recognized for its work with the SUNLab on optimizing and accelerating the time to market of the company's Sun Simba, a groundbreaking concentrating solar panel. The Sun Simba concentrates the sun's light no less than 900 times, using an inexpensive, injection-moulded transparent optic – the patented Light-guide Solar Optic (LSO) – which turns incident sunlight sideways, guiding it along an internal plane to a high efficiency photovoltaic cell at the optic's centre. The result is a solar panel that is expected to achieve one of the industry's highest reported sunlight-to-electricity conversion rates, potentially in the most compact, low-cost form to date. The University of Ottawa's SUNLab is the only university lab in Canada dedicated to researching high-efficiency solar cell designs for such systems.
While the technology itself represents a new way to capture and transport light, the Sun Simba's materials were carefully selected for proven field performance. Acrylic, which makes up a majority of the panel by weight, for example, dates from World War II, explains co-founder and Vice-President of Business Development Nicolas Morgan, when it replaced glass in fighter planes due to its superior impact resistance and better optical qualities compared to glass. The multi-junction PV cells, made up of thin layers of gallium arsenide, indium, and phosphide, together accepting a wider spectral range, likewise have been powering satellites and space aircraft for 30 years. However, the Sun Simba promises to be the first cost-effective solar panel to leverage these cells for terrestrial power generation.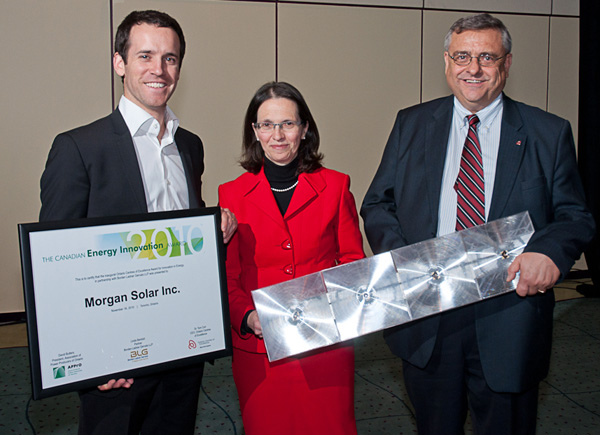 The concentration effect provided by Morgan Solar's inexpensive Light-guide Solar Optic, combined with the more efficient multi-junction PV cell, results in an overall superior power output. With a 26 to 28% conversion efficiency, a 3.2 metre panel array generates approximately 720 watts. By comparison, a conventional panel the same size, consisting entirely of standard silicon cells, would have an overall efficiency of 16 to 18%, generating a little over 400 watts, and likely at appreciably greater cost.
Morgan Solar expects the Sun Simba's all-in cost, including labour, tracking system and grid connection, to be very competitive on a per-watt basis with existing silicon PV panels. More importantly, Sun Simbas will generate up to 40 percent more electricity per year, resulting in a Levelized Cost of Electricity (LCOE) that will reach grid parity in areas with high direct insolation, the company says.
"Morgan Solar is another excellent example of the kind of innovation that has its roots in our academic institutions and is nurtured by industry to grow into a success story with tremendous commercial potential," said Dr. Tom Corr, President and CEO of Ontario Centres of Excellence. "It was that spirit of partnership, in this case with the uOttawa SUNLab, which really won the panel over in selecting Morgan Solar for this award."
"We set ourselves the ambitious goal of making solar energy competitive with other electrical generation technologies," said Nicolas Morgan. "Winning the Canadian Energy Innovation Award with our partner Dr. Karin Hinzer at the uOttawa SUNLab is not only an honour, but also validates our work. It also recognizes the enthusiasm, support, and talent that we've been able to tap into here in Ontario, which has brought us much closer to achieving our goal of bringing to market a game-changing energy technology."
The path in taking this new technology from the lab to mass production has been strewn with challenges, but the company has made enormous progress, in large part due to the guidance and validation provided by the uOttawa SUNLab. The partnership, begun in early 2009, has significantly accelerated the time-to-market of Morgan Solar's Sun Simba technology. It has also generated significant scientific and engineering knowledge, positioning uOttawa and, more broadly, Ontario at the forefront of the exciting research field of high efficiency solar generation.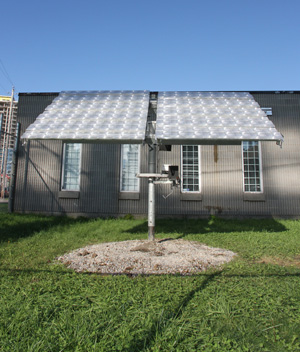 "We are proud to support Canadian-based innovation in renewables technology." said Linda L. Bertoldi, National Leader of Borden Ladner Gervais LLP's Electricity Markets Group. "Companies like Morgan Solar deserve recognition for their efforts to achieve efficiencies in this increasingly important sector of our electricity supply."
At present, the Sun Simba is being tested at small sites locally, and with the National Renewable Energy Laboratory in Colorado. In 2011, a 100 kW installation is planned for a site in Port Dover, and a 200 kW installation in Lancaster, California, the latter of which will scale-up to 2 to 5MW, provided initial performance metrics are met.
Morgan Solar will enter markets in Southern Europe, Africa, and India once it has successfully commercialized the technology in Ontario and California. The company also plans to develop a tracking system suitable for rooftops that will be able to take advantages of the OPA's FIT price for rooftops.
"Our goal with this award was to celebrate extraordinary partnerships that have led to astonishing innovations," said Dave Butters, President of APPrO. "In Morgan Solar we found our winner because of their business promise of excellence in solar energy and innovation in the field." The full title of the award is "Ontario Centres of Excellence Award for Innovation in Energy, in partnership with Borden Ladner Gervais, LLP." Further information on the award can be found on the APPrO and OCE websites.
To see a video about Morgan Solar and the Canadian Energy Innovation Award see http://www.youtube.com/watch?v=p7TfwSKGG7w&feature=player_embedded.