California company combines EVs for a virtual storage battery
San Carlos, California: To demonstrate the grid balancing potential of its smart-grid electric vehicle chargers, eMotorWerks has deployed a 30 megawatt, highly distributed virtual energy storage battery within California. With an energy capacity of 70 megawatt-hours, the virtual battery operates in California Independent System Operator's (CAISO) wholesale day-ahead and real-time markets, dynamically managing charging loads to balance grid demand, reduce wholesale energy costs and mitigate the intermittency of renewables. eMotorWerks is a subsidiary of the Enel Group's new advanced energy services division Enel X.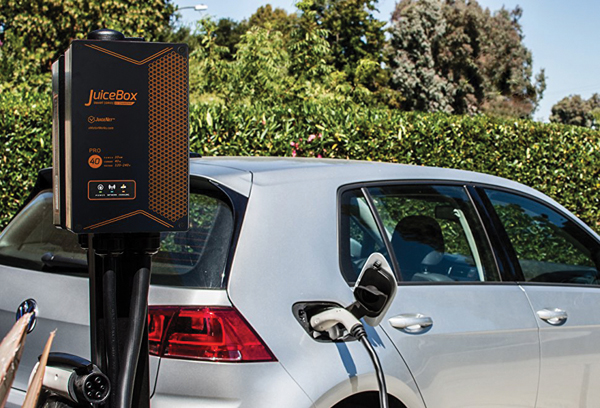 Over 6,000 eMotorWerks residential JuiceBox and other JuiceNet-enabled chargers installed in California make up the 30MW virtual battery. Locations are spread across the state and concentrated in the major population centers. By controlling them through the company's cloud-connected JuiceNet software, and enrolling EV drivers to participate in rewards programs, the system delivers grid services such as demand response capacity (up and down) on a daily basis across the state, with the capital outlay borne by EV drivers instead of utilities or energy storage developers.
          The combination of JuiceBox charging stations and the cloud JuiceNet software allows utilities to analyze and model how chargers can participate in retail and wholesale markets, as well as maximize the use of wind and solar energy in their service territories. Dietrich Sümmerman of Share&Charge, which is partnered with eMotorWerks, says, "By establishing networks of individuals willing to share their EV charging stations, we are opening up more charging options to EV drivers, while at the same time ensuring station owners are compensated accordingly."