Chris Bentley appointed Energy Minister
Toronto: On October 19, less than two weeks after the provincial election, Ontario Premier Dalton McGuinty announced that the new Energy Minister would be Chris Bentley. Mr. Bentley is a seasoned member of the cabinet, having served in several portfolios, most recently as Attorney General and Minister of Aboriginal Affairs.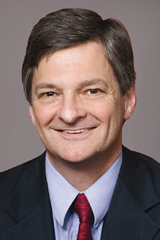 APPrO President Dave Butters, who met with Minister Bentley recently, welcomed him to the portfolio saying, "I look forward to continuing the same close working relationship with Minister Bentley as with his predecessor. We hope to meet with the Minister in the near future to learn more about his priorities and to discuss the key issues of concern from APPrO's perspective."
Chris Bentley was elected to the Ontario Legislature in 2003 as the Member of Provincial Parliament for London West. He also served as Minister of Labour, and then as Minister of Training, Colleges and Universities. He was re-elected in 2007 and 2011. He has served on a number of cabinet committees: Co-chair of the Treasury Board Working Group, Treasury Board/Management Board of Cabinet, Committee of Emergency Management, Legislation and Regulations, Justice, Intergovernmental Affairs and Aboriginal Issues. He also served on the Poverty Reduction Committee.
Before his election, Chris practiced criminal and labour law for almost 25 years in London. For 11 of those years he also taught part-time at the University of Western Ontario's Law School, where he was recognized for his teaching. He helped establish the Law School's Careers Office. Active in the community, Chris was on the organizing committee, and was the first chairperson, of Neighbourhood Legal Services London and Middlesex, a legal clinic established to assist low income clients.
An avid runner, Chris has participated in numerous charity runs. He has completed three Boston marathons. Chris attended the University of Western Ontario, obtained his law degree from the University of Toronto in 1979 and was called to the Bar in 1981. After practising for a few years, Chris obtained a Master's Level degree from Cambridge University in England in 1985. Chris lives in London. He and his wife, Wendy, have two daughters.
Brad Duguid, the previous Minister of Energy, was appointed Minister of Economic Development and Innovation.